Your ceremony is one of the most special parts of your wedding day so you want to make sure your backdrop is absolutely perfect. If you're stuck for ideas on how to create a swoon-worthy backdrop for your 'I Do' moment, don't fret – we've got it covered. From rustic ladders to rooftop archways, you'll find a ceremony backdrop you love…
Keep it simple
Sometimes the simplest styles have the most impact and you can never go wrong with a feminine floral design. Adorn a hanging beam or wooden archway with your favourite flowers – just make sure they're in season! The combination of distressed wood, metal and blooms creates a chic industrial theme.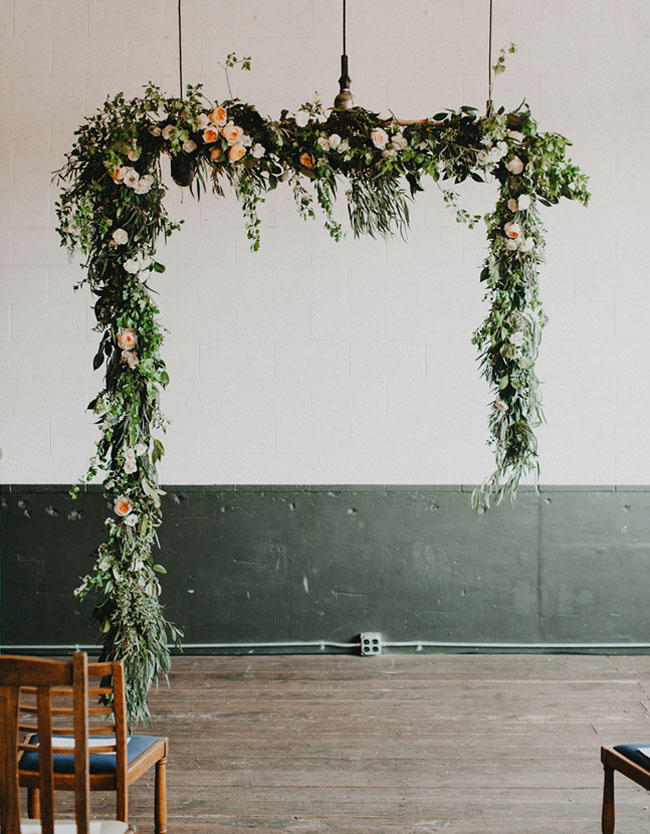 Modernise it
If you love the thought of a floral archway but want to add a modern touch, consider hanging geometric installations from the beam. Keep the geometric theme going throughout the rest of your décor too – they make fab table centrepieces.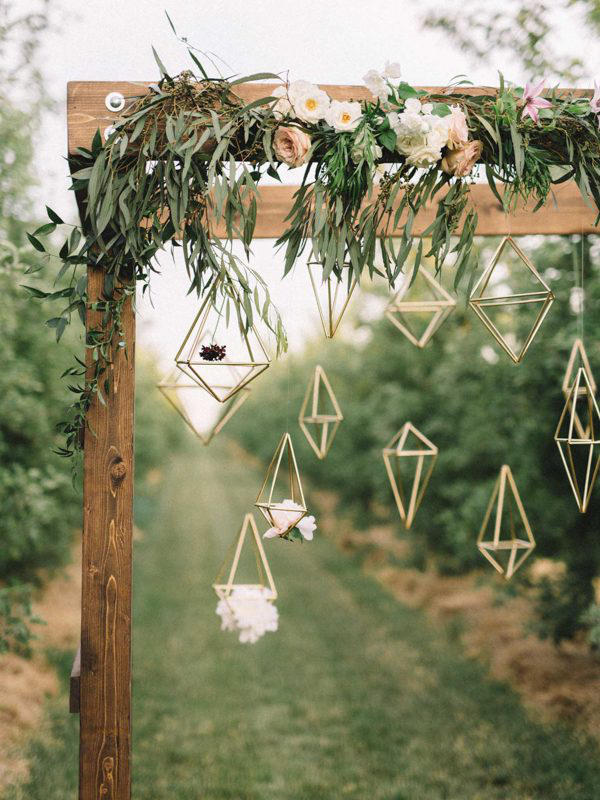 Light it up
Light-up letters are the perfect fit for a warehouse wedding, particularly if you're tying the knot in the evening. Choose your initials for a unique and personal approach. Your photographs will look beautiful with the letters in the background as you exchange your vows.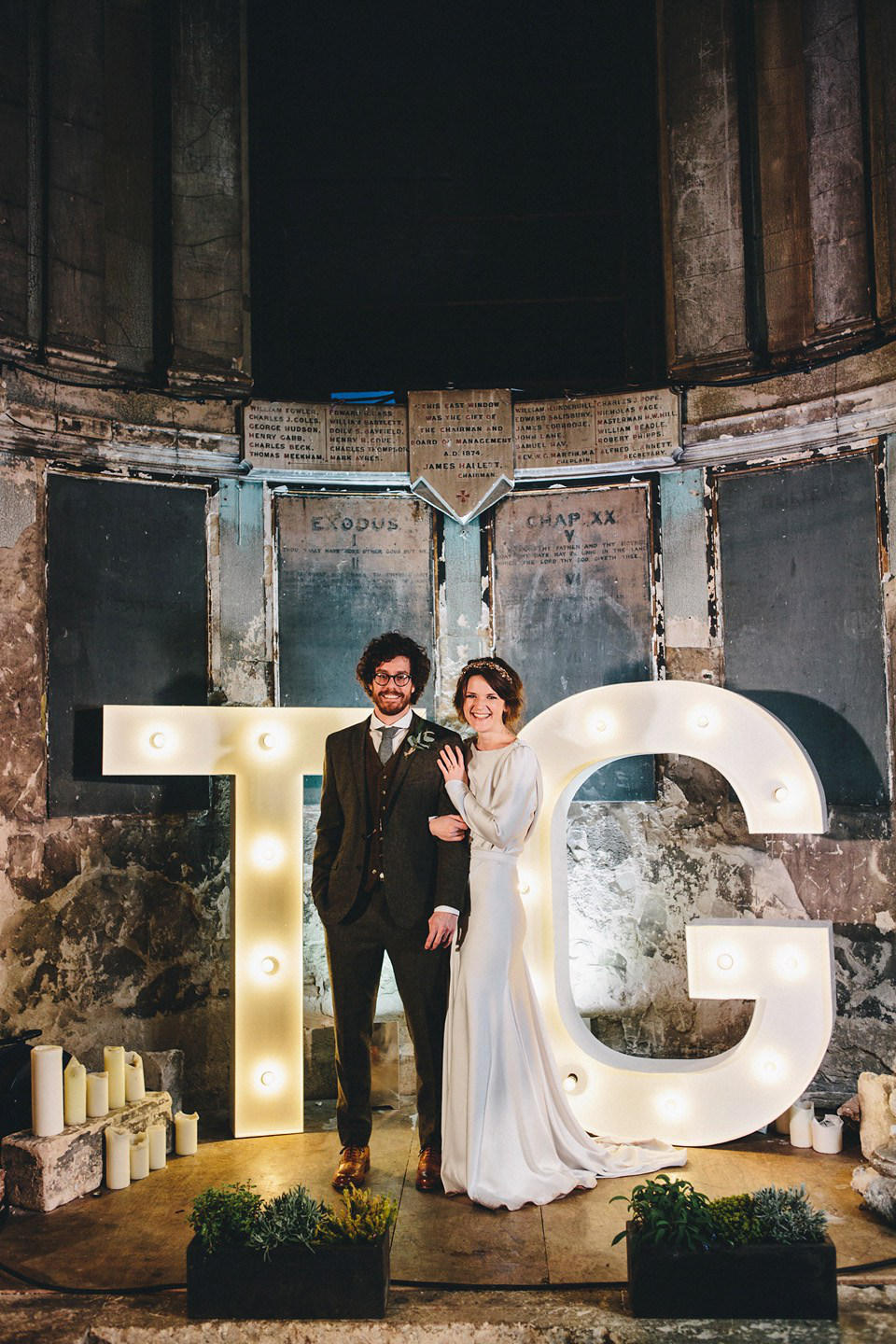 Modern rustic
If you want to add a rustic-bohemian feel to your wedding ceremony, we suggest creating a simple wooden archway and hanging buckets of flowers from it. It's simple, stylish and oh-so-sweet.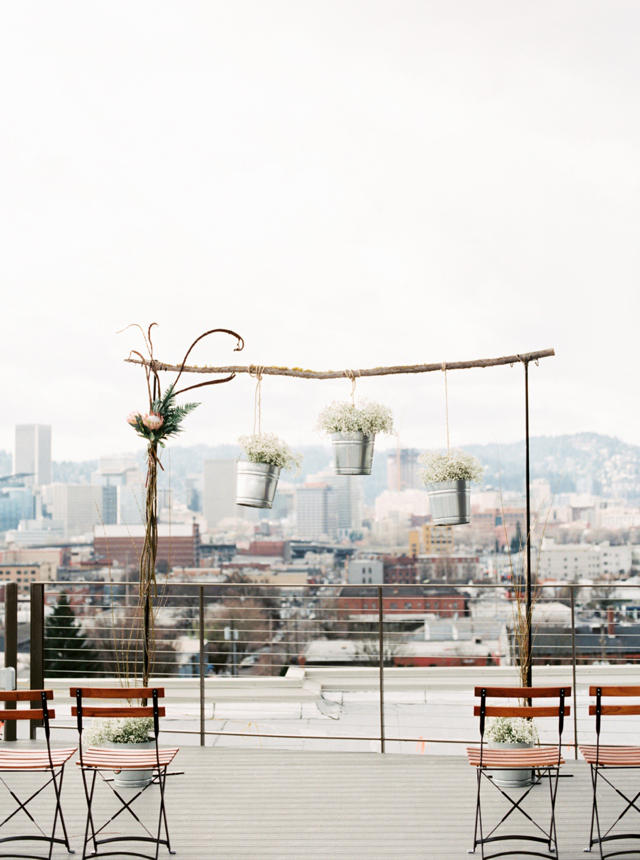 Do it yourself
For artists or the creative-types, a DIY ceremony backdrop is an original and unusual choice! Simply paint a plain white background with your favourite colours and stand it against the back of your ceremony wall. The paint-splatter effect looks seriously cool, and you'll know that it's completely unique to your wedding day.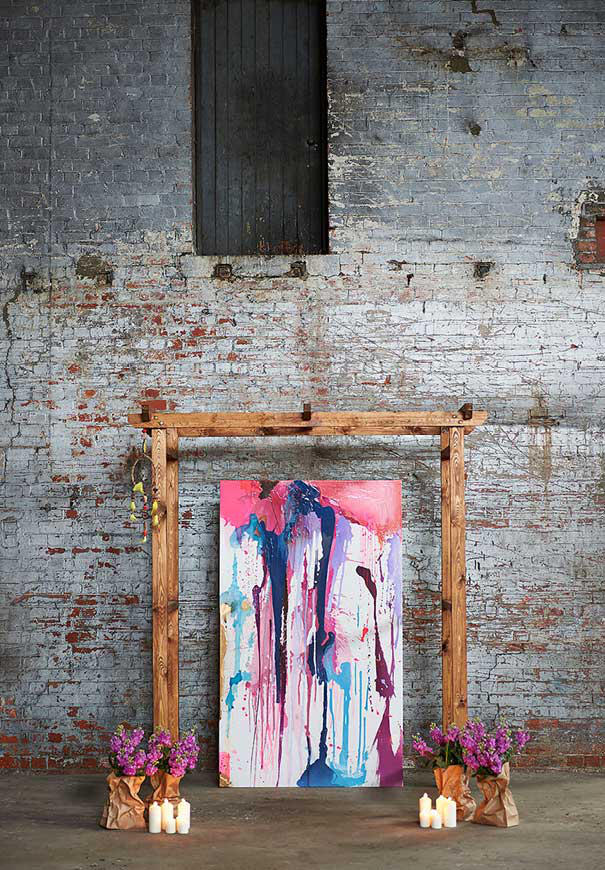 Step Up
Ladders are super versatile when it comes to weddings. They can be used as part of your seating plan or to display your most-treasured photographs. But they also make for a striking ceremony backdrop. Place a couple of ladders at the front of your ceremony space and adorn with blooms and foliage. Alternatively, you could display photographs of your journey together as a couple. Weathered brown ladders are perfect for a warehouse or edgy wedding, but you could also paint them to fit in with your chosen colour scheme.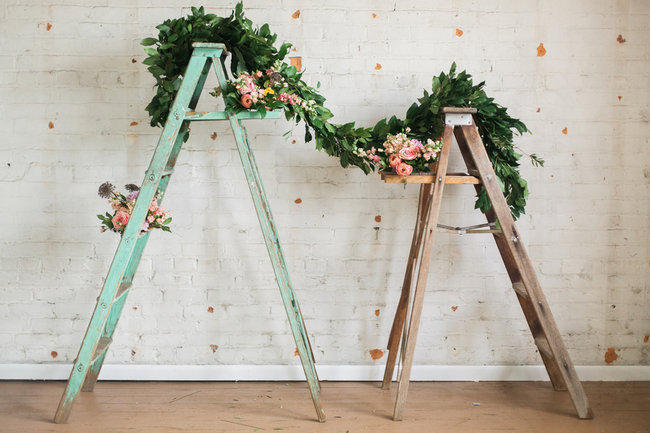 Use the paper wedding trend
A colourful paper backdrop is a wonderful way of injecting your personality into your ceremony space. It can brighten up even the simplest of wedding venues while creating a beautiful background for you to tie the knot.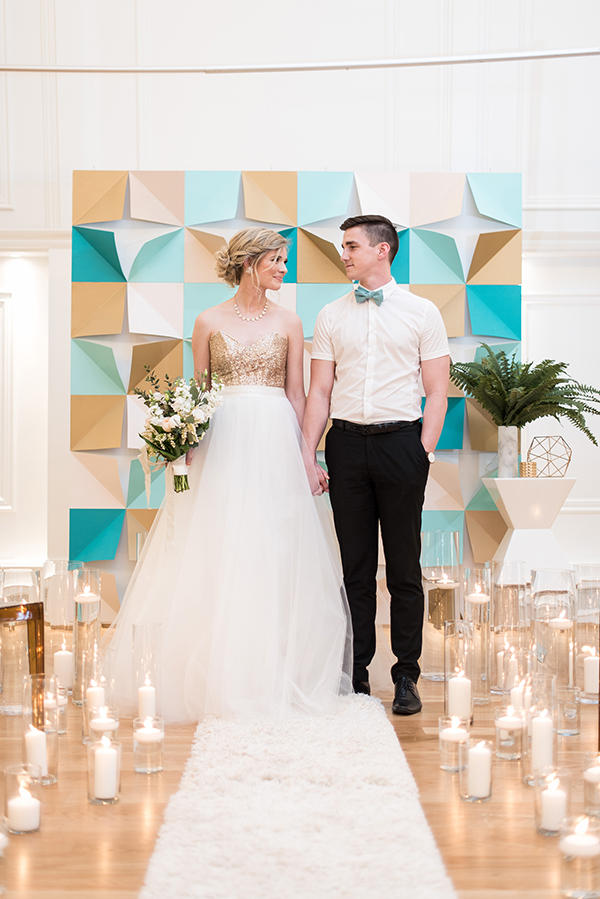 Write it out
Metallic calligraphy looks incredible on wedding stationery, so why not use it as part of your ceremony backdrop too? Create a golden calligraphy style sign and hang it against the wall of your ceremony area. You could decorate it with flowers, candles or a metal archway – the choice is yours!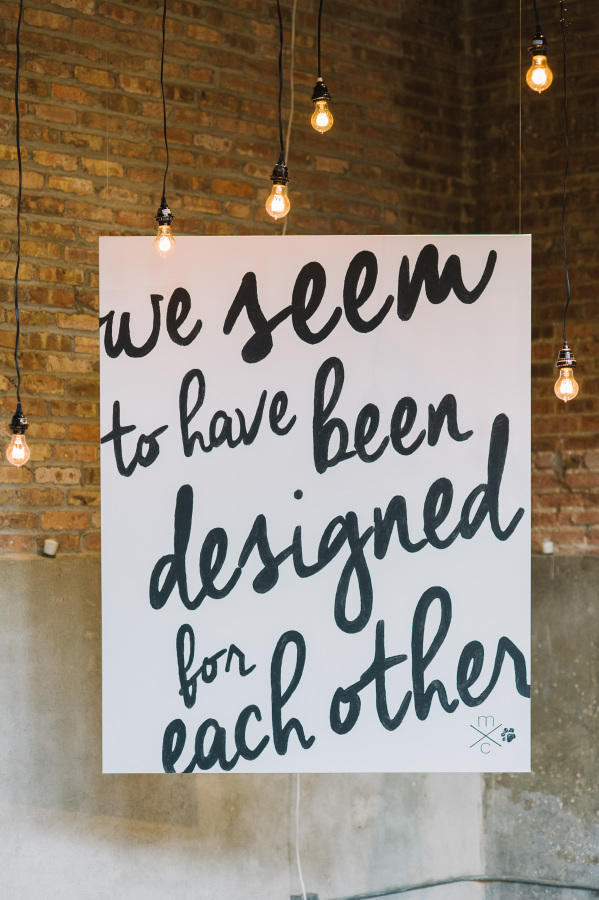 Say what you feel
Speaking of hanging signs, we love the idea of writing your favourite romantic quote or saying onto a large piece of material. Attach it to string and hang it up on the wall of your ceremony space. You'll marry the love of your life with a very special saying behind you.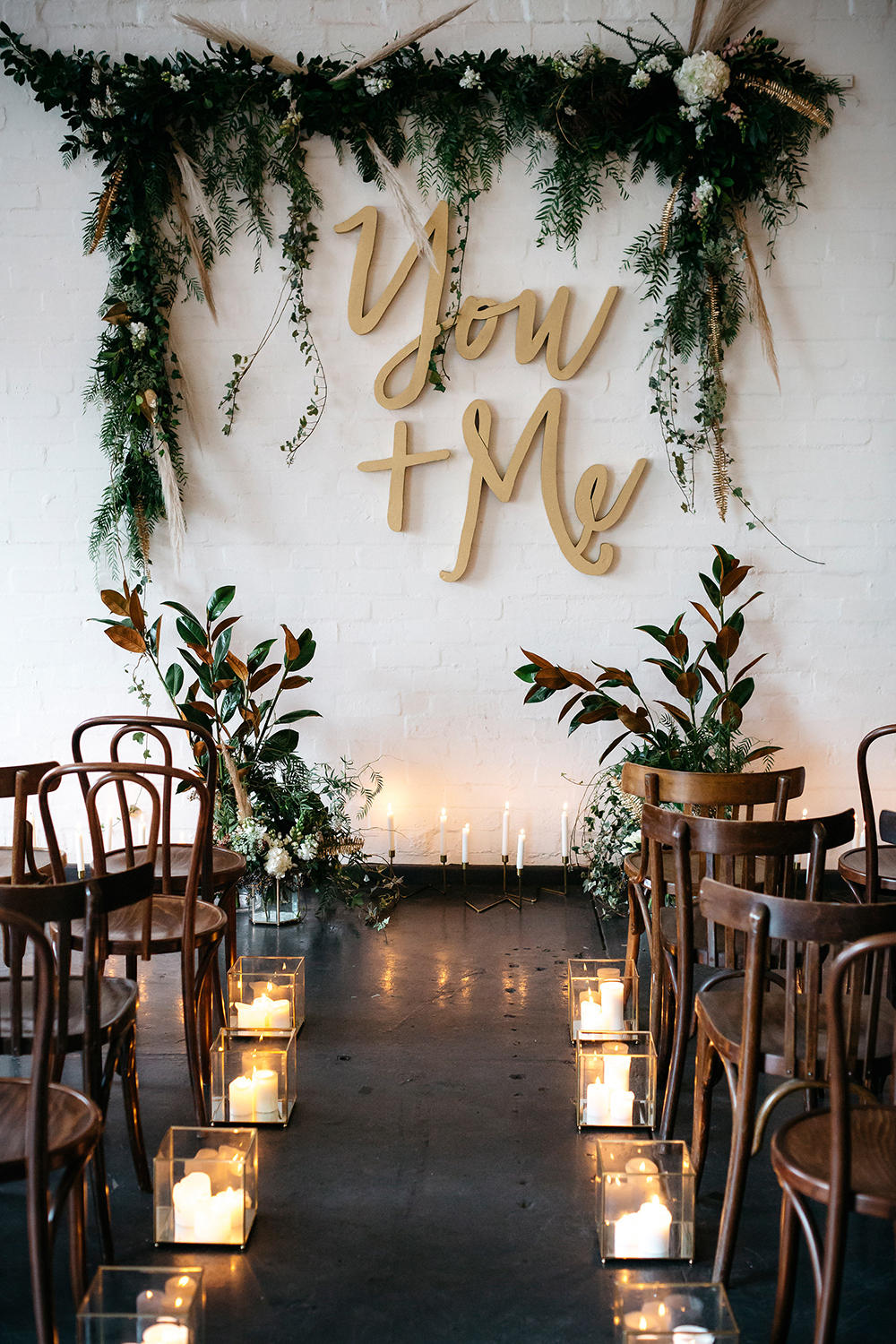 Doorway decor
A vintage or weathered doorway may seem slightly useless when it comes to planning your wedding day, but it actually makes for a totally original ceremony backdrop. Bring it back to life with a lick of paint or some pretty flowers. Your guests will never have seen anything like it before, so it'll be completely unique to you!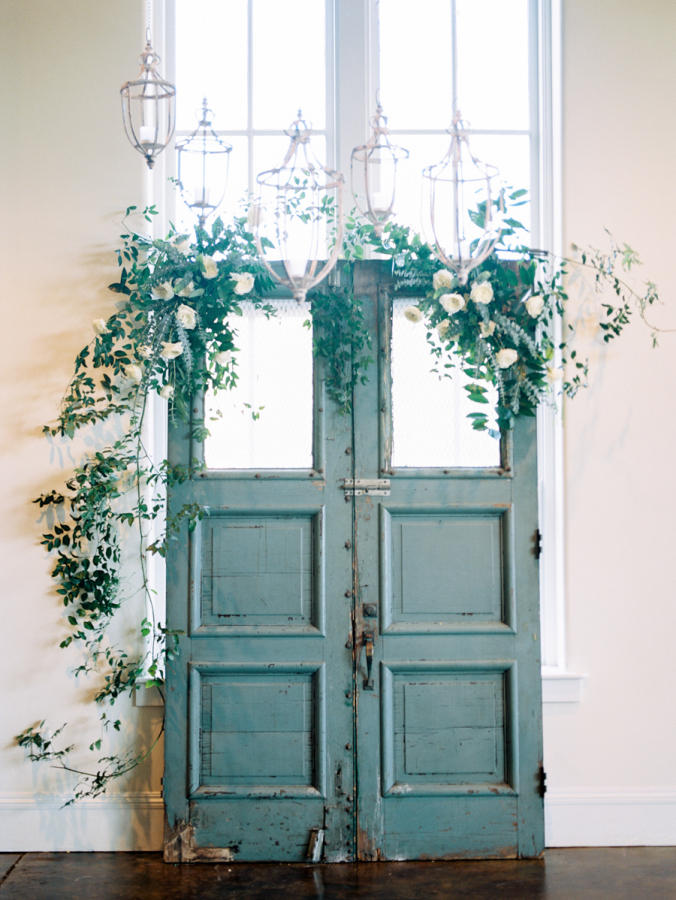 Industrialise it
Similarly to light-up letters, metal letters are perfect for an urban affair. The best news? They make fab pieces of home décor for after the big day!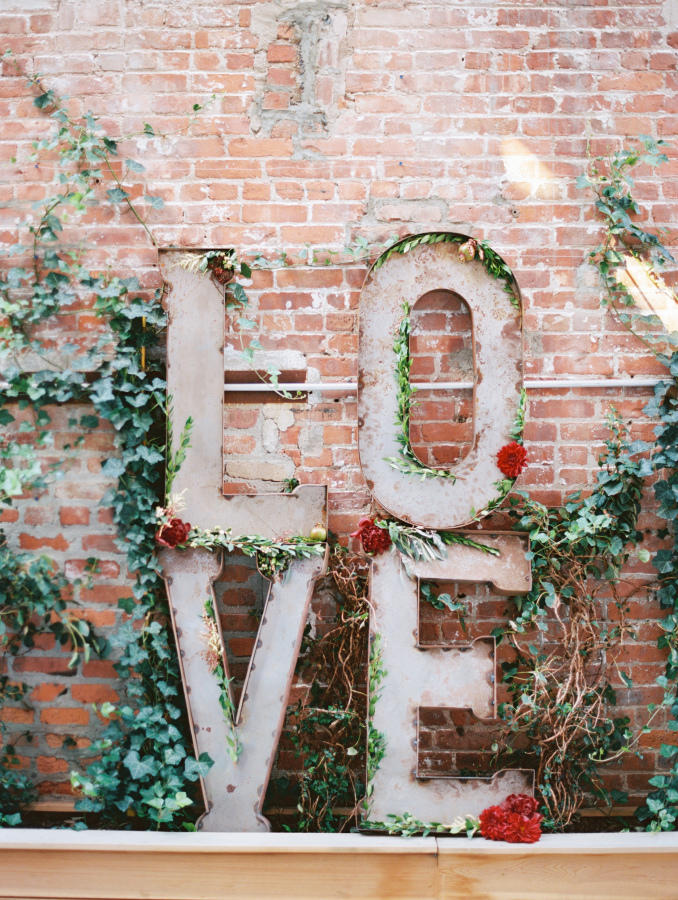 Not to swing from
Have you ever considered creating a floral chandelier? Hanging installations have been a huge hit for this year, and they're predicted to stay hot for 2017. It's elegant, timeless and the perfect statement for your ceremony space.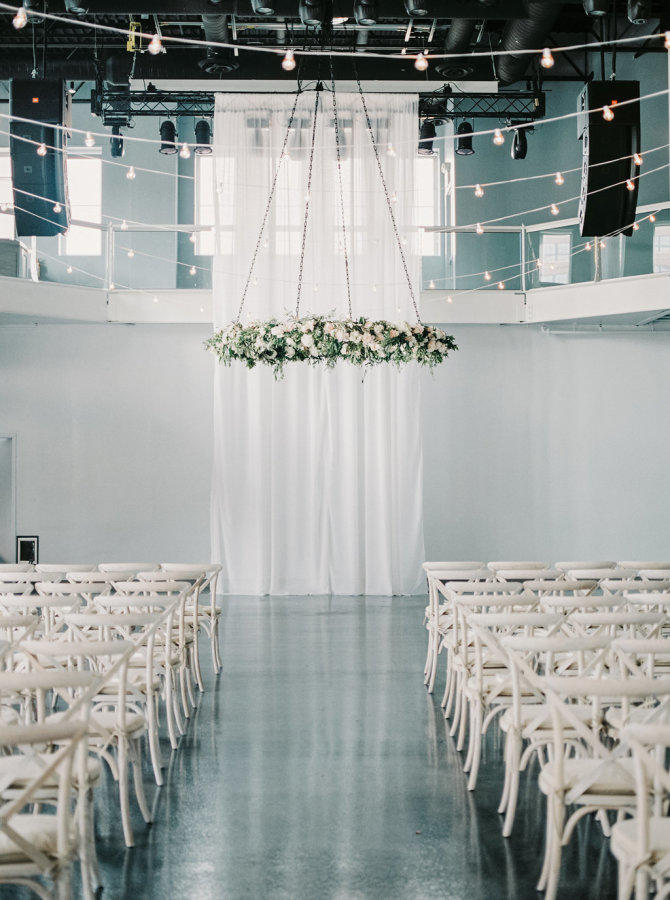 Go botanical
Photo-frames or even mesh wires all work beautifully for a stylish and modern ceremony backdrop. Hang them up on the wall of your ceremony area or against a large blackboard for a contemporary style. Add a botanical touch by hanging vases of cacti, succulents and greenery alongside the wires.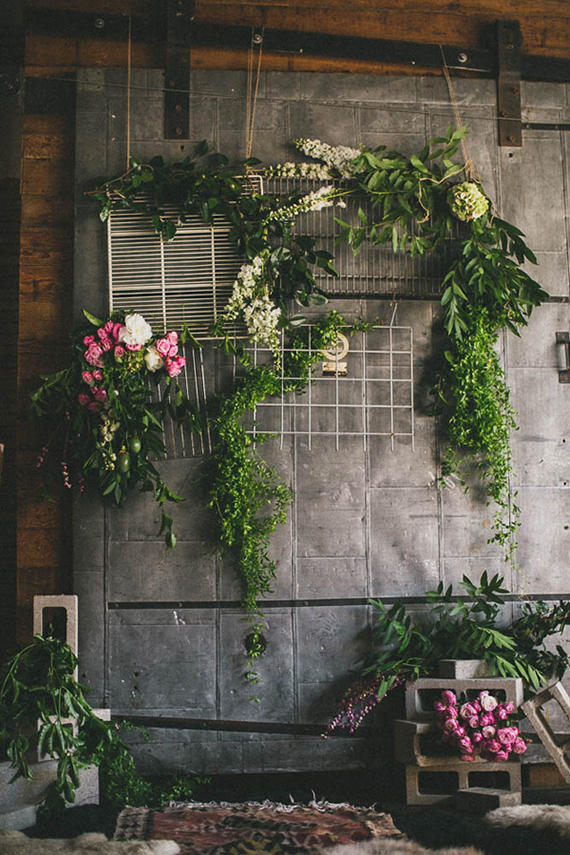 There are so many ways of creating a unique ceremony backdrop and you're absolutely spoilt for choice. Which is your favourite? We can't choose!
Related Tag: London Wedding Planner
Photography Credits (in order shown)
www.philchester.com/www.olivephotography.ca/www.thetwinsweddings.co.uk/www.christataylorphotography.com/www.nikoleramsay.com/www.spencerstudiosphotography.com/www.hayleyrae.com/www.katieharmsworth.com/www.tandshughesphotography.com/www.marciemeredith.com/www.landonjacob.com/www.geneoh.com/www.studiocastillero.com