Table décor and styling can have a huge impact at your venue. It can reflect your wedding theme, colour scheme and individual style, and it's a chance for you to get really creative. We've picked out our 4 favourite themes and ideas for wedding table styling an industrial, warehouse or urban wedding. Each theme is incredibly different but they all work so well at this type of venue. So if you're stuck for ideas on how to style your wedding tales, we suggest you read on as we've got heaps of inspiration heading your way…
Carnival Bright
If you adore all things colourful and stylish, this theme is definitely the one for you! An excuse to go all out with your venue décor and wedding table styling, a carnival bright colour scheme certainly makes a statement. Metallic Tolix chairs are recently becoming more and more popular at industrial-inspired weddings, but we are smitten with these gorgeous green chairs. You could also mix and match various colours for a wonderful rainbow wedding table. Consider using colourful hanging garlands as alternatives to traditional centrepieces. Not only will they look incredible hanging above your wedding tables, they'll make your venue look show-stopping. Add lots of different coloured candles to your wedding tables – the mixture of colours will look fab in a warehouse venue with limited décor.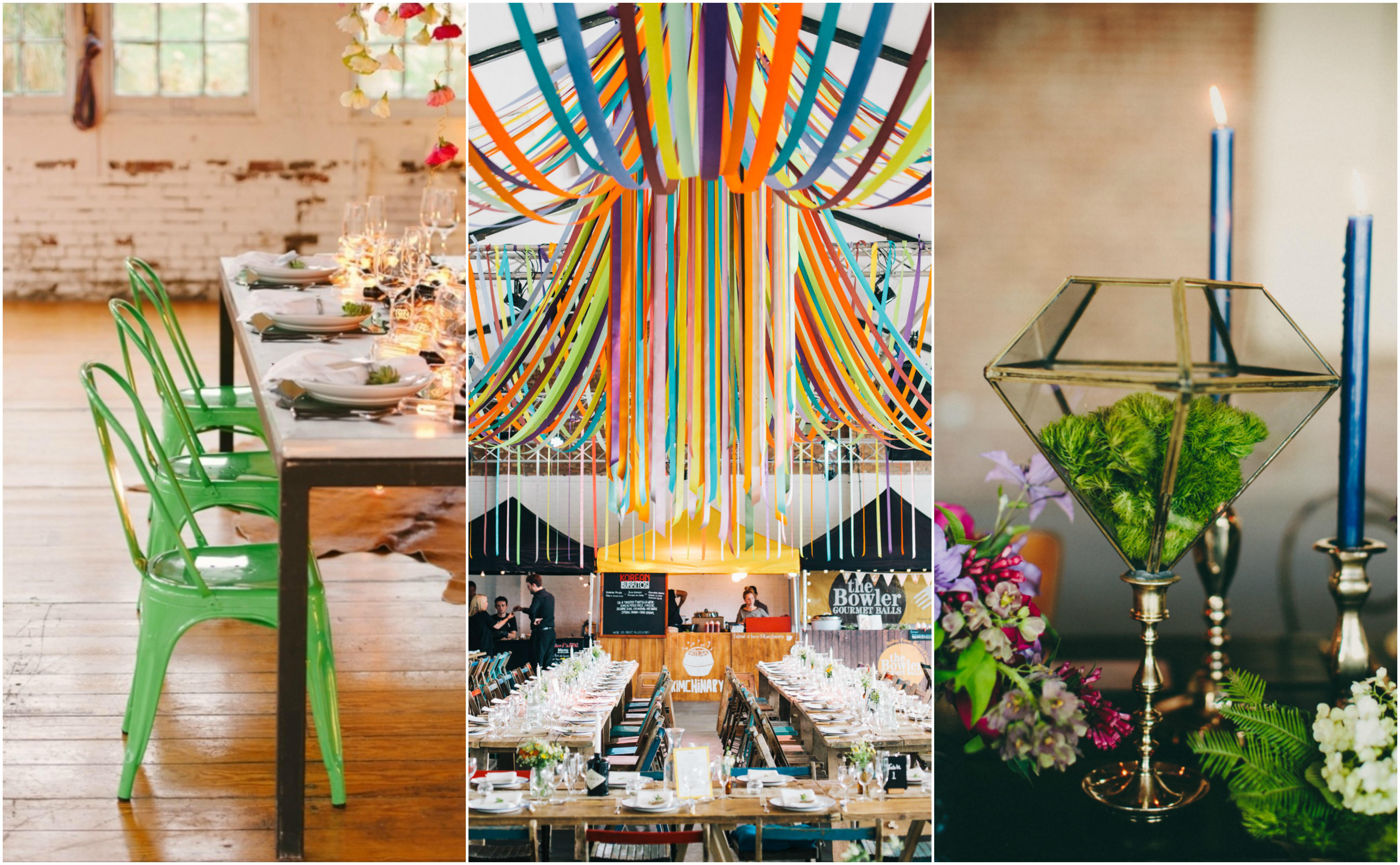 Gritty and Grey
Dark grey and black details give a warehouse or industrial space a gritty vibe that we think is oh-so-stylish. We're talking grey linen table runners teamed with black or brushed grey vases. Grey candles lined along the length of your table will help to give your tables a warm glow. Opt for materials such as slate and concrete to use as part of your table décor. Concrete blocks can be used to hold candles or flowers. Slates make unique place settings or table numbers for this wedding table styling.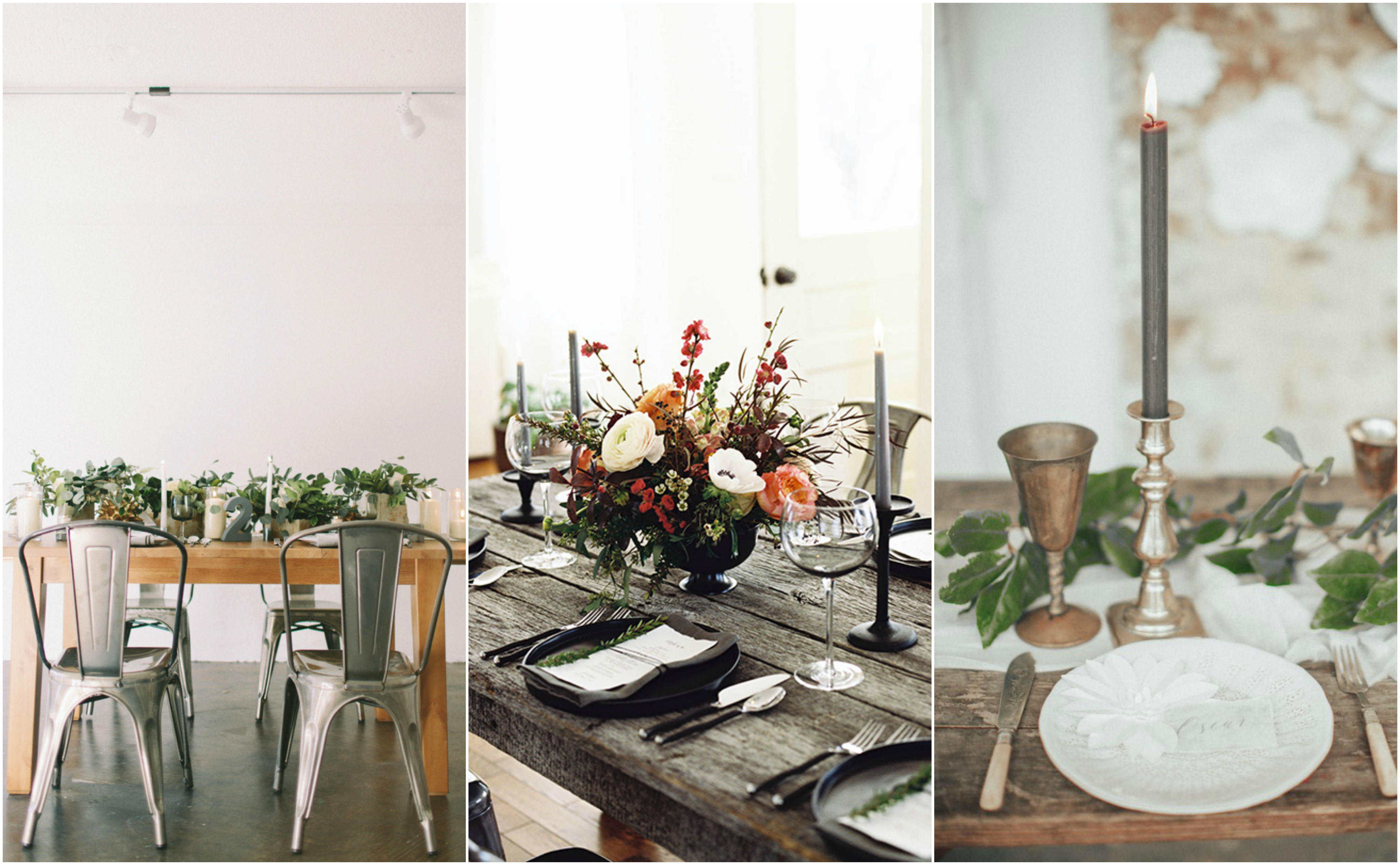 Modern Metallics
Metallics always work perfectly for an industrial wedding theme, and they offer plenty of inspiration for your wedding table styling. Terrariums started to make an appearance a year or two ago, but they're here to stay. You can use terrariums as a vase and fill it with succulents or flowers. Alternatively, add a tea light or a candle to each terrarium. Golden, bronze or copper cutlery is being used in place of standard silver cutlery, and they can have a huge impact on your table décor.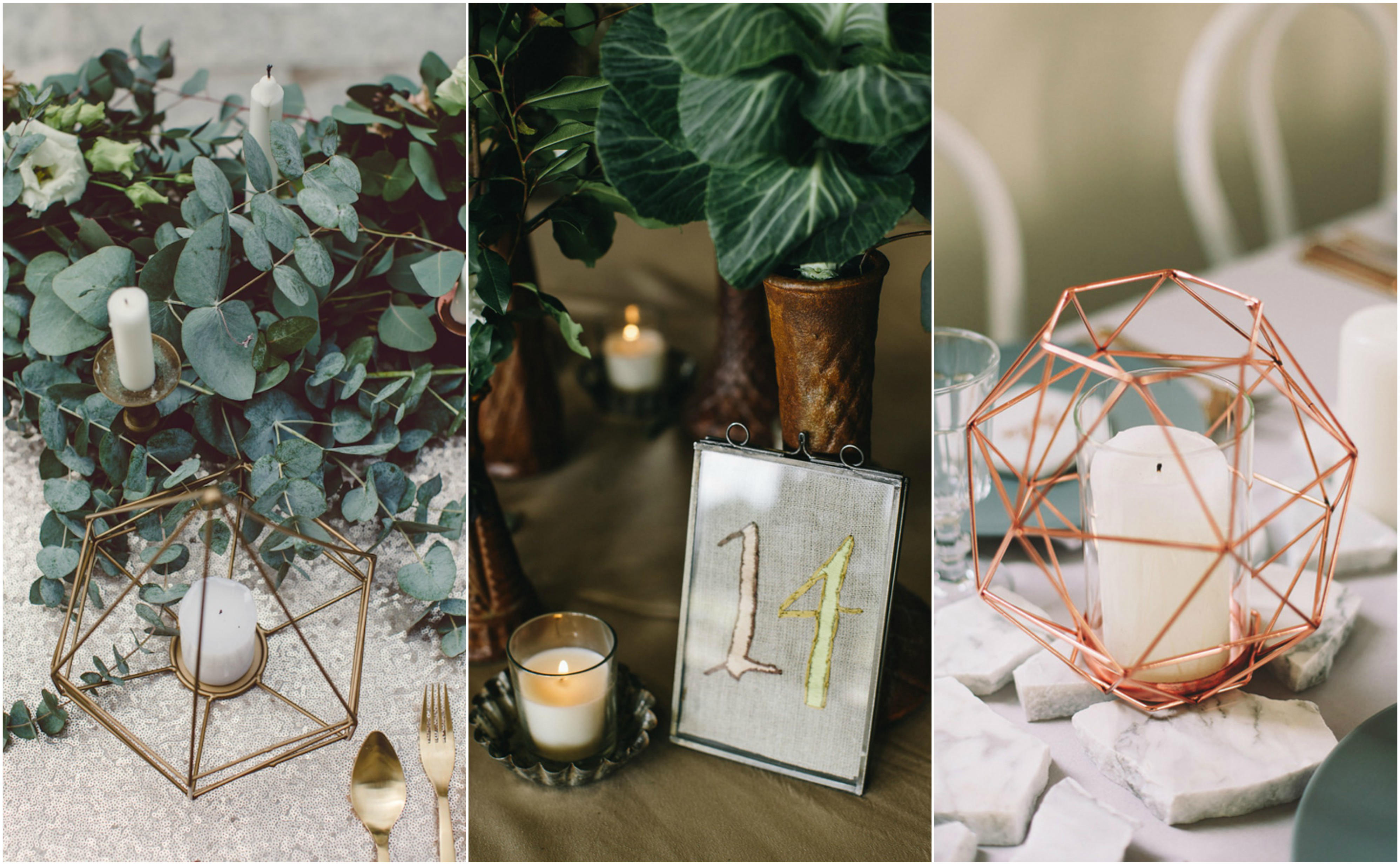 Rustic Vibes
The combination of a rustic wedding theme teamed with an industrial wedding venue really is rather magical. The best news? It suits any season! There are heaps of different ways you can bring a rustic wedding table styling to life. A wooden trestle table is a perfect fit for this theme – so don't hide it with any table runners or cloths. Simply opt for a foliage and greenery garland and place it along the length of your table. Ask your florist to make it a little longer than the actual length of the table so that it drapes off both ends. It'll give your table styling a wild, natural vibe. You could also create a hanging greenery installation as your centrepiece, which is a great idea if you want to create more space on your tables. Wooden crates bursting with greenery and flowers will work really well with this theme, especially if you're using wooden crates throughout the rest of your décor too. Moss table numbers will be a subtle nod towards your wedding theme, and they can even act as part of your table centrepieces.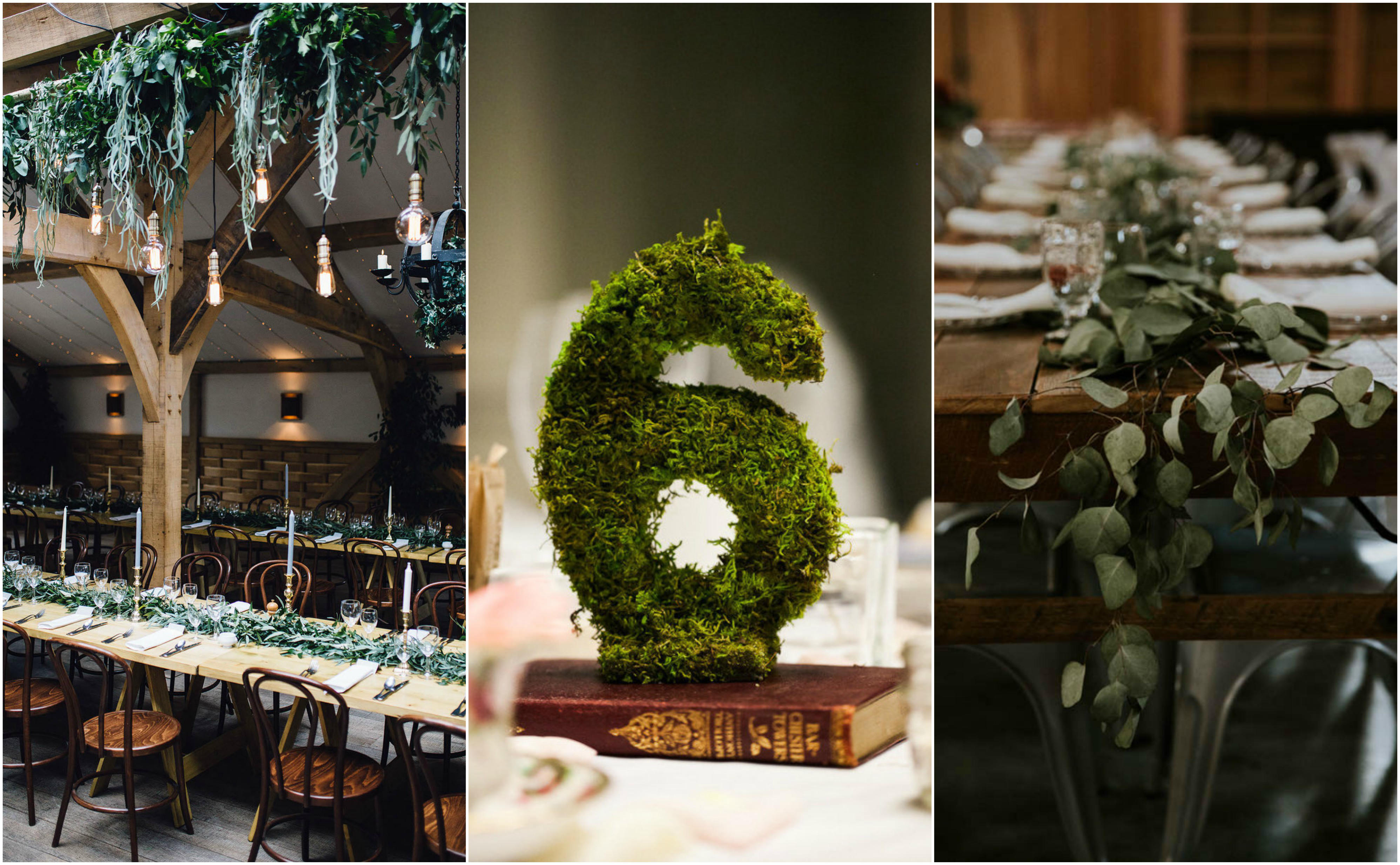 An industrial wedding venue can essentially work as a blank canvas so you can really put your own stamp on your wedding day. It also means your wedding will definitely be one-of-a-kind! Hopefully our table styling suggestions have left you feeling inspired and bursting with ideas for your big day.
Related Tags: Wedding Planner Surrey
Photography Credits (in order shown)
www.brookeallisonphoto.com / www.robbinsphotgraphic.com / www.laurenscotti.com / www.hehonsphoto.com / www.abigailbobophotography.com / www.jesspetrie.com / www.lillyred.it / www.mackenseyalexander.com / www.juddricphotography.com / www.samueldocker.co.uk / www.abritandablonde.com / www.marianewmanphotography.com