If you're thinking of getting away for a loved-up Valentine's weekend, I have two hotels, really great for you to try that I was lucky enough to stay in recently.
The Arty Hotel
The first of our two hotels is the Exhibitionist. Located only 5 minutes walk from the tube at South Kensington with lots of bars on your doorstep, it's in a very nice spot.  If like me, you love a bit of modern art, you will love this place as it's truly everywhere from the huge gold bull in reception to the fashion label prints in the hallways. Even the lift is panelled with fake grass.
The hotel itself is a boutique style townhouse with only 37 rooms and 8 gallery spaces. If you can stretch to it, book a splash suite (I particularly love the Jimmy Martin Penthouse which is a spa suite!). All of the rooms are pretty cool but expect cosy for the ultimate and signature luxury rooms. They may be small but they still exude glamour and all-round fabulousness. There's a little iPad control panel where you can order exactly what you want your room to have in it from robes to the actual choice of scent in the room. you can even book a personal stylist at the touch of a button.
Make sure to wander to the bar, Abstract, which is a piece of art in itself as they do some fab cocktails and it's a really great space with a lot to look at. This is still luxury but it doesn't lose its edge because of it and Kensington is a great place for those of you that like to just wander the hidden cobbled streets and look at perfectly painted houses.
Expect to pay around £200 per room per night.

The Design-Led Hotel
Right the way across town in Bankside about 10 minutes walk from Waterloo sits the second of our two hotels, Citizen M, a very modern hotel with some differences. With sister hotels in Amsterdam, Glasgow, New York and Paris, it's a brand to watch out for. It's hard to describe it but this hotel is like a capsule hotel but completely design-led.
From the start where you check yourself in and grab your own keycard you can see they've thought of how to do things easier. Cash isn't accepted here – everything is done via credit card in a machine.
They have done away with all of the things they see as unnecessary that put the costs up – don't expect space to do anything in, or chocolates on your pillow. Instead, they have excelled at what is necessary and done it with a luxury spin. A giant comfortable bed, floor to ceiling windows, a frosted panel capsule in the middle of the room that serves as your wetroom. Don't get me wrong – this place isn't for everyone but those with an eye for clever design will love it!
With no pricey incidentals to pay for, the hotel has thrown in some essentials for free – wifi and movies being the two I most appreciated.
Like the Exhibitionist, there's an iPad to control the room with and this is where it gets clever. If you click 'relax', calm blue lighting floods the bedroom and a sound system boots up with birds chirping! If you click 'movie', the blinds shut, the tv comes on and the lighting changes. It's slightly gimmicky but I like it. I didn't click 'romance' but if I did, I would have expected a soundtrack to match!
They have made up for the lack of space in the bedrooms by making the foyer, bar and lounge spaces downstairs amazing! The place is a real hub with everyone lounging on soft sofas and cube seating around the bars and bookshelves. The lighting is awesome. There's a sort of vending cafe where you can take what you want to the bar to pay for it and it's very inexpensive – you can tell they are going for a luxury experience without a ridiculous price tag and I'm definitely a fan of that!
Expect to pay around £120-150 per room per night. All rooms are the same so no need to think about suites.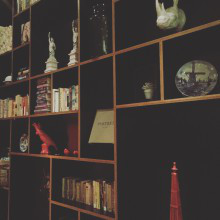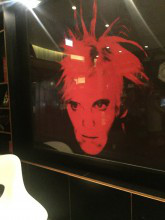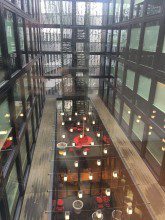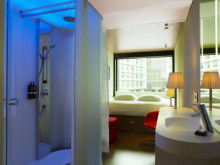 I hope that's given you some weekend inspiration! Have a great Valentine's weekend everyone.
Lisa x