Tonight I was lucky enough to be #Weddinghour's #Weddinghourexpert over on Twitter! Weddinghour is fabulous! It's an hour at 9pm on Wednesdays, invented by The Wedding Affair (www.theweddingaffair.co.uk) where wedding suppliers and couples 'virtually' gather to network, ask questions and talk all things wedding!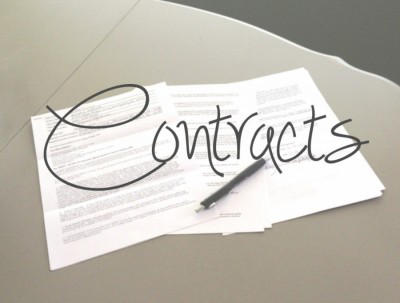 As I have a law degree, I'm often asked about wedding supplier contracts and tonight was no exception! I always insist on checking and negotiating the contracts with couples I work with so I thought it might be useful to give you a few of the questions I get asked about contract law and some short answers. If you want to know more, leave a comment or drop me an email and I'll see if I can help!
Common Wedding Contract Questions
Do I really need a contract for every supplier? My photographer/cake maker says he doesn't bother with contracts.
Yes! You need a contract for everything you are paying for. To you, it's your wedding and it's emotional but to a supplier it's a business transaction. If the supplier doesn't have a contract, write one and get them to sign it. Make sure timings are explicit and state exactly what is being provided to you and for what price.
What should I look for in a contract with a bridal shop?
Make sure pricing is clarified and that it states whether it includes VAT, make sure there is a clause about damages to be paid to you if they can't get the dress or if something happens to the dress or they cannot fulfill the contract in any way. This goes for all suppliers. There will be cancellation charges in there for you too – make sure you are happy with them and negotiate them if you aren't happy.
The venue agreed to a date with us when we looked around it so we thought it was booked but now they've given our date to someone else saying ours was just provisional and they didn't hear from us to confirm. Wasn't it a verbal contract?
In theory, it could be seen as a verbal contract depending on exactly what was said but it is going to be too hard to prove either way. Once money has been paid in the form of a deposit then you can prove the date is yours. Make sure the money isn't paid in cash for any deposits – you need to be able to show that money did indeed change hands.
My contract says that I will have 100 guests but there will now only be 80 attending. Do I still have to pay for the 20 that won't be there?
Some venues do have a minimum charge or a minimum guest amount and if you have signed a contract agreeing to pay that figure, then you are bound to do so. Saying that most venues would be happy to transfer the amount of money (or some of it) to another service they supply; for instance, to allow you to spend the money on more food or drink. It's always worth asking but better to negotiate that into the contract before you sign.
I signed a contract with my venue but they said it was a standard one and I've now realised it says the reception has to finish at 8.30pm!
Signing a contract, even if you didn't read it or understand it, usually means you are bound by it. However, if there are onerous or unusual terms in a contract, they should be explicitly pointed out to you before you sign. If they were not you could try and argue that the term is void under the unfair contract terms Act 1977. Again though, it is all based on reasonableness so it is always better to check the fine print first.
My contract has a force majeure clause in – what does that mean?
Force Majeure means 'act of god' and it basically releases both parties from obligations if something happens beyond their control such as a flood.
A photography student I know is doing my wedding for free. He's signed a contract to do it but now says he can't turn up. Can I make him?
Unfortunately, for a contract to be valid there has to be what is known as 'consideration' by both parties. Your photographer was giving you something but you were not giving him anything in exchange so there was no consideration on your part, making the contract void. The consideration must have an economic value.
I didn't sign a contract with my venue but they did give me a piece of paper when I booked with estimates on. Now the prices have all gone up. Can I hold them to the old prices?
No, unfortunately not. An estimate is just that. To stop this from happening you can ask your venue, at the time of booking, to sign a contract with the prices quoted on. The problem with this is that it works both ways. So if you sign saying you'll pay for 90 people and then closer to the wedding only 60 are coming, you'll still be paying for 90. Always allow a contingency fund in your budget of around 20% for inflation and for other things you have forgotten about.
So, I hope that helped! Remember my top tips!
· Never sign a contract you don't understand!
· Never sign a contract you can't afford!
· Never sign a contract under pressure – take it home, read it thoroughly and then decide!
Have a good evening!
Lisa x