Autumn is one of our favourite seasons for seriously stylish wedding celebrations. Whether it's the cosy colour palettes or the crunching leaves under our feet, we can't resist an Autumn wedding. So, if you're considering saying 'We Do' in this divine season, take a look at our ultimate guide for pulling off an awe-inspiring Autumn wedding…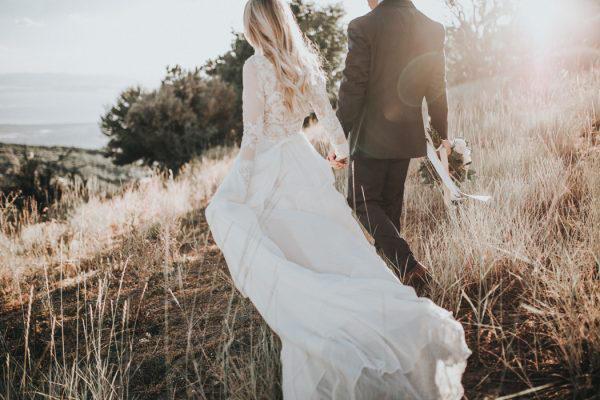 You'll need to wrap up warm on your wedding day, so why not rock a chic jacket? Not only will it keep you feeling toasty, it'll look incredible in your wedding photographs. A fab choice for a fashion-forward bride, opt for a vintage-inspired denim jacket or personalised leather jacket. The best news? You can wear it after the big day too – it'll look amazing teamed with a pair of jeans.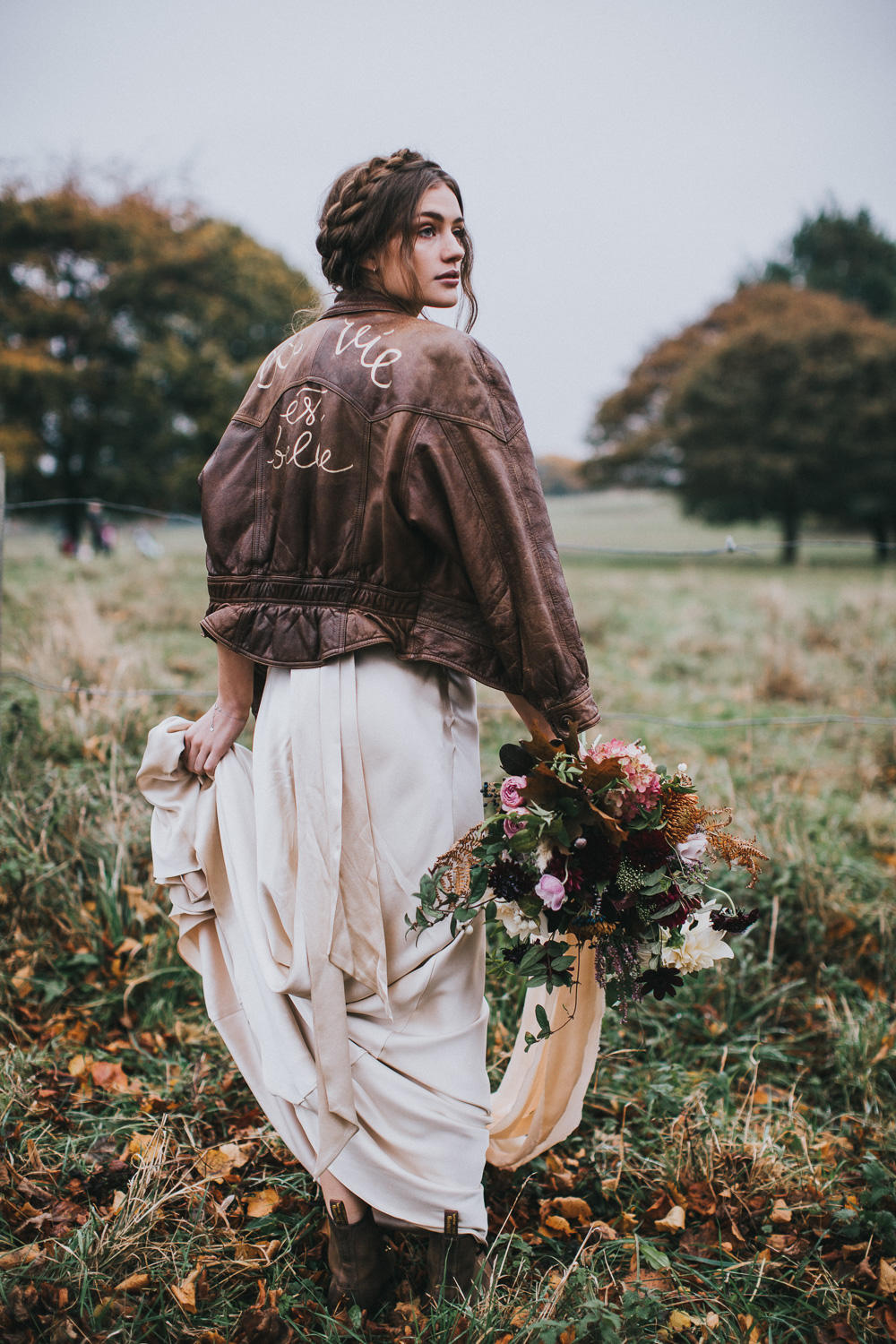 You'll need to make sure your guests keep warm too! An Autumn wedding is a wonderful excuse to create a hot drinks station for your guests to enjoy. You can create a self-serve station consisting of hot chocolate, coffee and even toffee apple cider for a seasonal treat. Decorate it so that it fits in effortlessly with your wedding theme. For instance, if you've decided on a rustic theme use lots of wooden pallets, crates and signage. If you've chosen an industrial theme, use lots of copper mugs and metallic decorations to give your drink station a modern edge.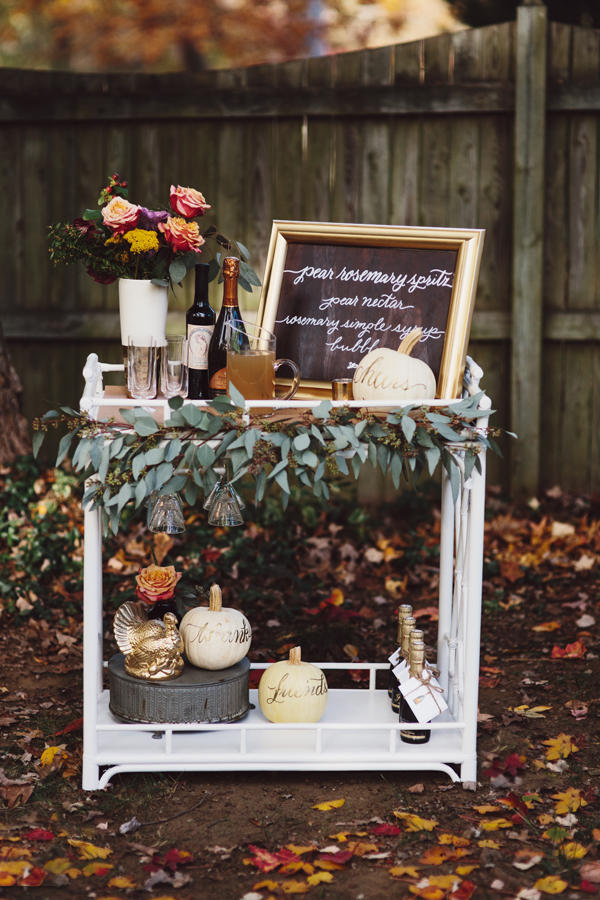 Another lovely way of keeping your guests warm is by offering blankets, rugs and shawls during the evening – particularly if you've got an outside space at your wedding venue. They can double up as wedding favours and they'll really add to the décor. We suggest storing them in wicker baskets or on a rustic ladder.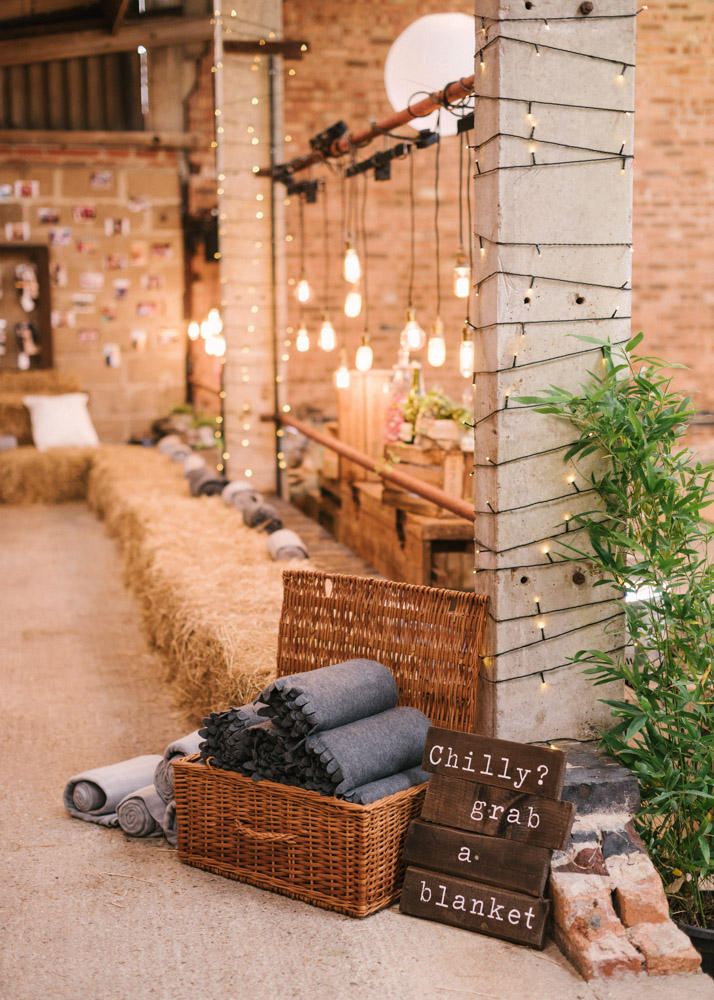 As you know, Autumn offers so many gorgeous palettes, so embrace them! We love the idea of using luxurious jewel tones throughout your wedding theme. We're talking mustard yellow, emerald green, plush purple and cobalt blue. Team them with divine materials such as velvet and you'll have the makings of an unforgettable day. You could also opt for a traditional colour palette such as burnt orange, warm brown and rich red. Give it a modern twist by working in copper and bronze metallic hues – stunning!
You'll need to discuss timings with your photographer to ensure you make the most of the daylight. As the night draws in much earlier, it'll be much more difficult to get those gorgeous outdoor shots. But when you do, they'll be oh-so-romantic.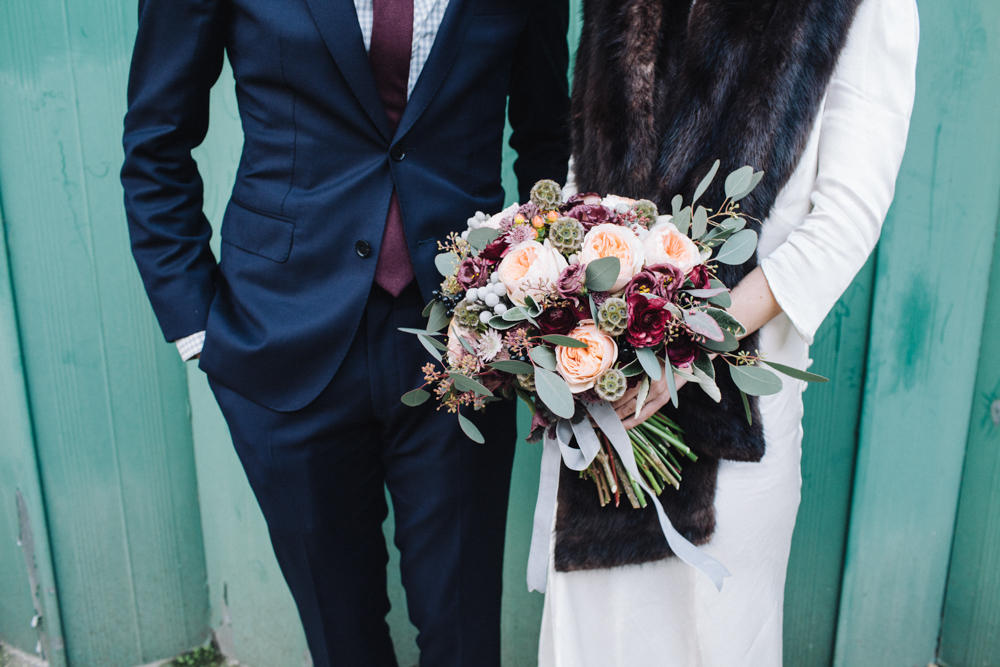 Make the most of the Autumnal surroundings, especially if your wedding venue has a beautiful outdoor area. It may be a little chilly, but those outdoor photographs really will have the wow factor.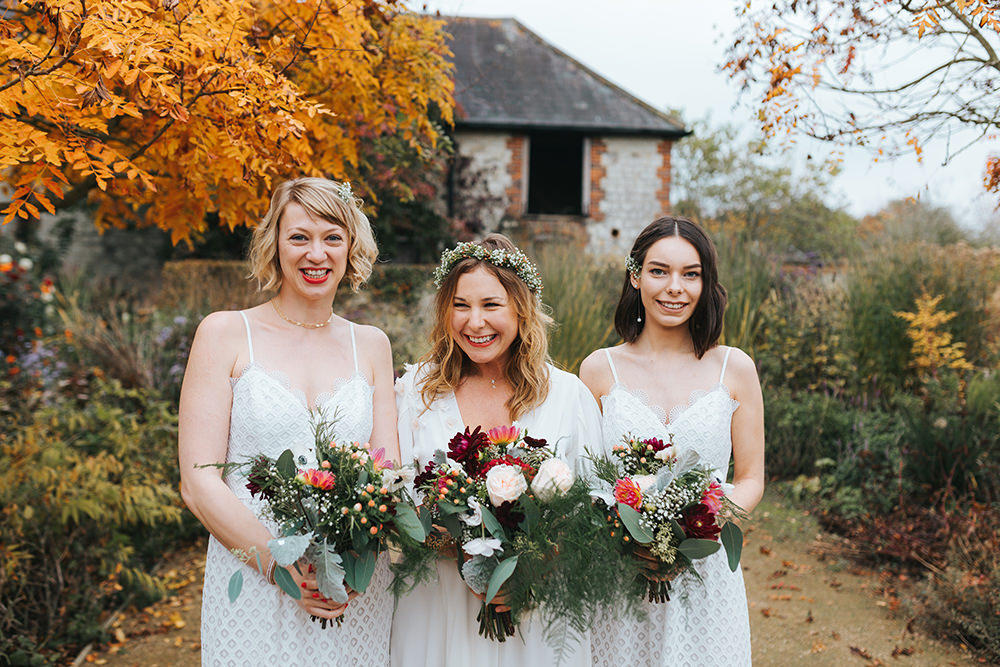 You'll need to use lots of lighting to give your Autumn wedding day a warm and cosy vibe. If fairy lights don't take your fancy, consider using on-trend Edison bulbs instead. They look incredible draped across the beams of the ceiling or tied around hanging installations above your centrepieces. Get creative and have fun with your lighting – they can really contribute to your venue décor. Alternatively, lots of tea lights in metallic terrariums will look equally gorgeous.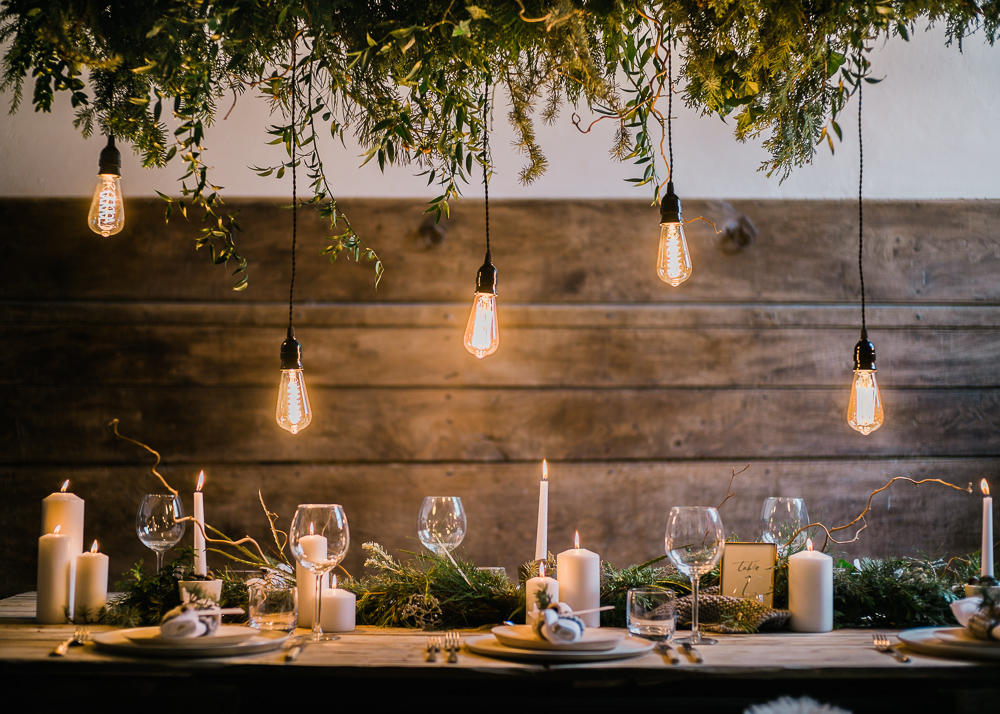 When it comes to your wedding decorations, you want it to fit in with the season. We are smitten with the idea of using hanging metallic hoops adorned with seasonal flowers and foliage. Use burgundy ribbon to hang them around your wedding venue for an extra Autumnal touch. You could also fill copper or bronze vases with flowers and greenery and dot them along roaring fireplaces, windowsills or as part of your table centrepieces.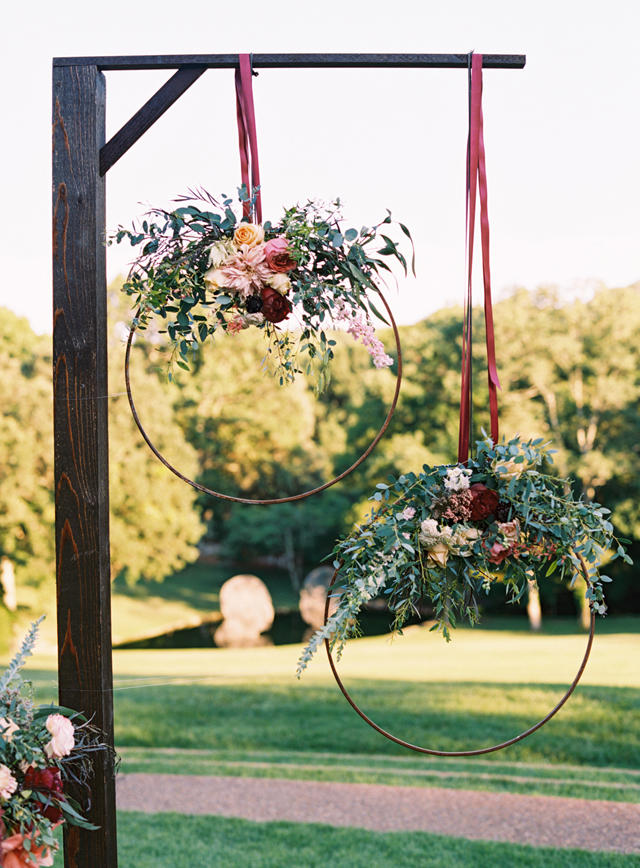 Don't forget to give your guests a clue about your wedding day. Your stationery will act as 'branding' for your big day, so make sure it reflects your wedding theme and style. We also recommend using a similar design throughout the rest of your stationery so that it all ties in together beautifully.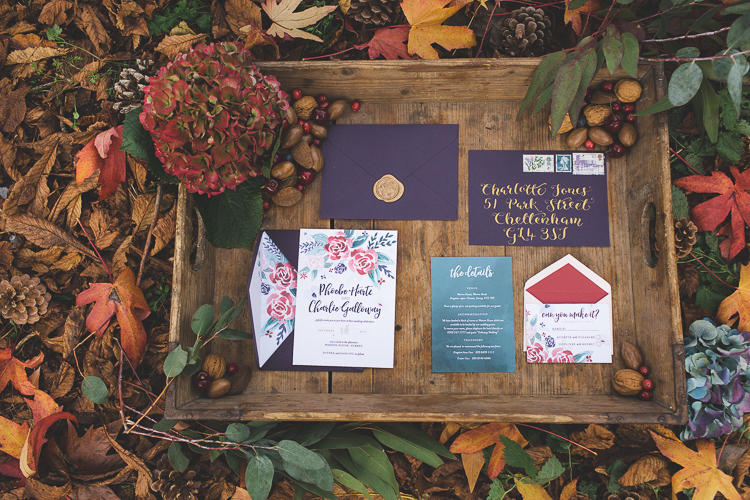 Always have a Plan B in case it rains! Source chic umbrellas to use as props for your wedding photographs – they'll look cool and they will also add something different to your special day. You could even provide a basket full of mismatched umbrellas for your guests to help themselves to, they will certainly appreciate if they have to walk outdoors and it's raining!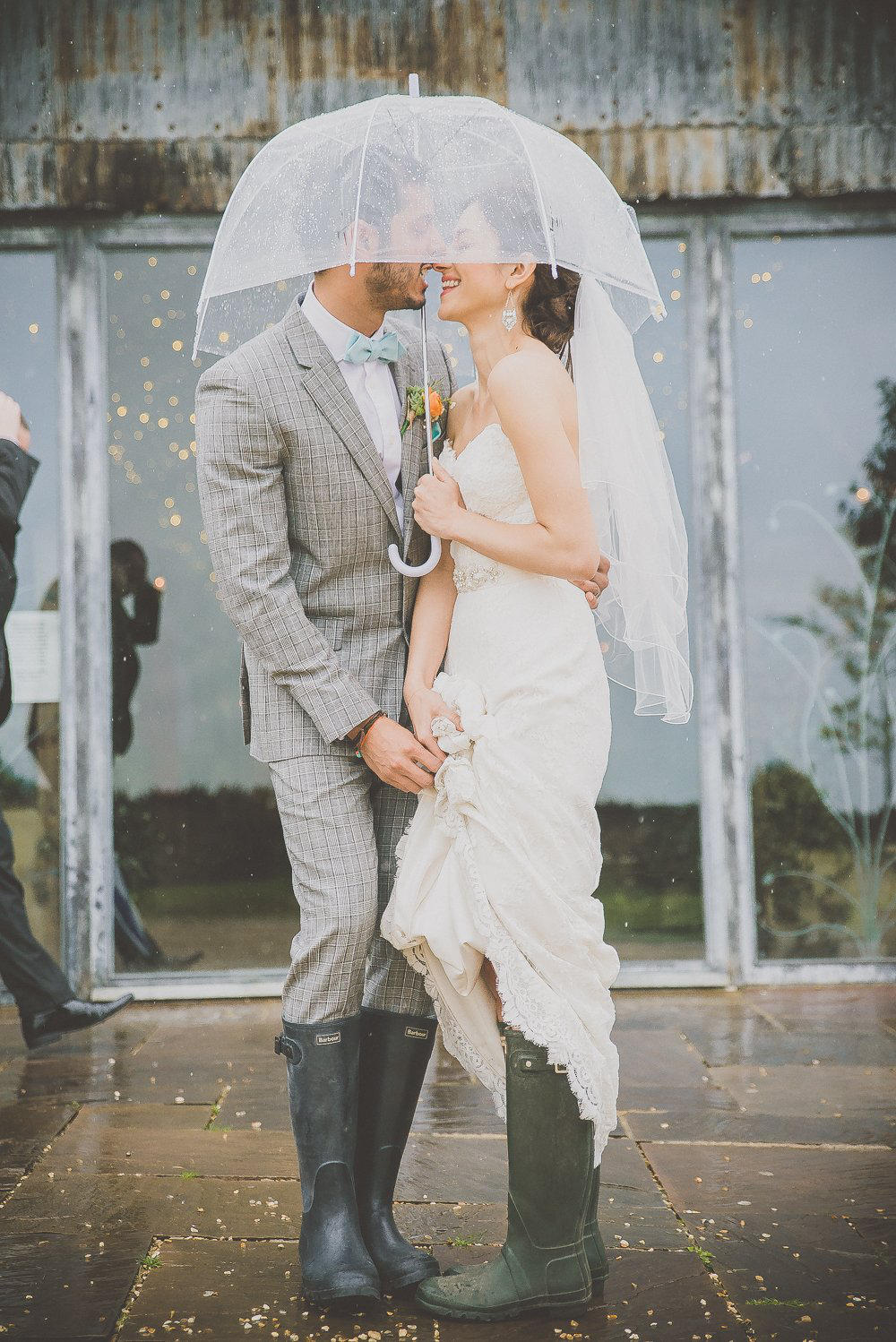 Now you've read our 10 tips for pulling off an awe-inspiring Autumn wedding, you're guaranteed to have the most incredible day!
Related Tags: Wedding Planners Surrey | Wedding Planner London
Photography Credits (in order shown)
www.autumnnicolephoto.com / www.matthoranphotography.com / www.sarahculver.com / www.hannahduffy.com / www.robbinsphotographic.com / www.missgen.com / www.johnbarwoodphotography.co.uk / www.austingros.com / www.kirstymackenziephotography.co.uk / www.michellelindsell.com