We couldn't do a CW Loves series without including one of our favourite florists – Myrtle & Smith. Sarah Lindsey owns this fabulous florists and made the amazing bouquet for our gorgeous and stylish warehouse shoot in May.  Sarah has a real passion for flowers. After a career in television, she retrained so that she could have the business she'd always dreamt of and this really comes across in her stunning work. We asked Sarah to give us the lowdown on which flowers she loves to use for weddings so let's hand over to her now…..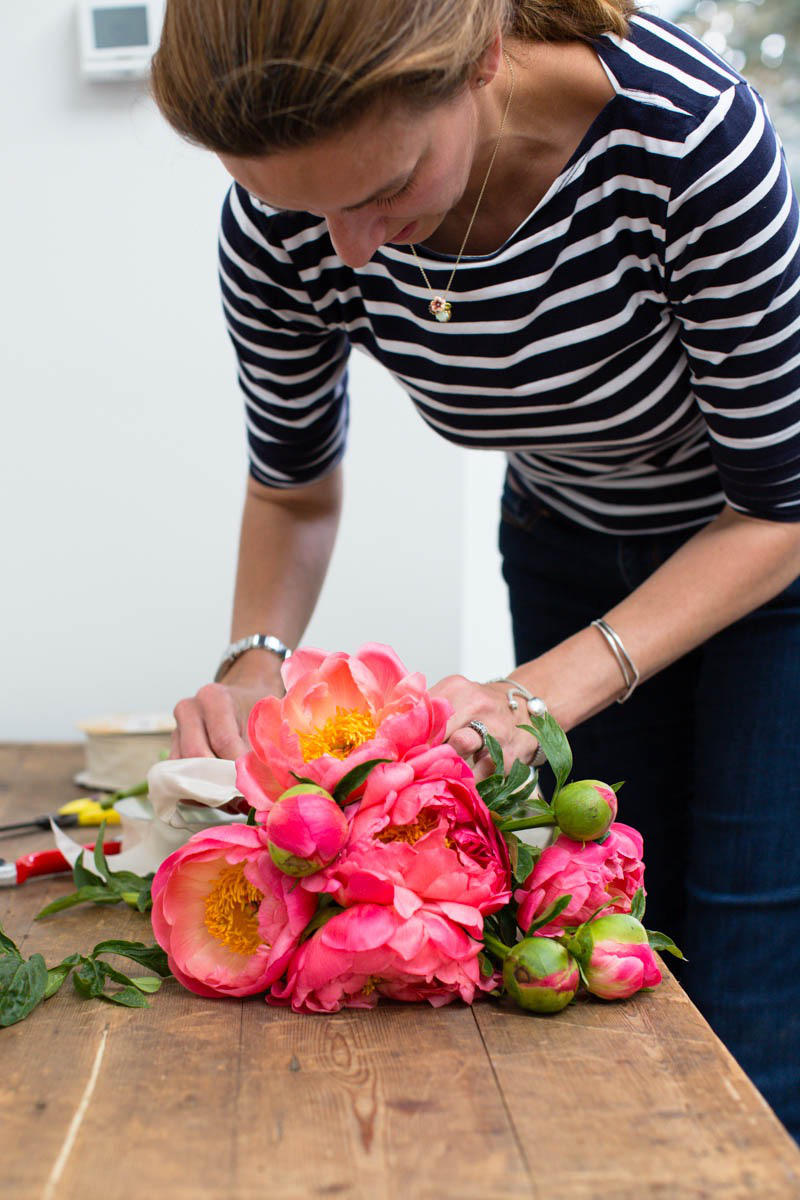 When Lisa & Sam asked me to write a blog post about the flowers I use for weddings I have to admit I hit a wall – how could I put into words [ less than 1000!] the things I wanted to say about all the amazing flowers I love using. So I decided to break it down a bit.. quite a bit actually. And for my first post, I'm going to just focus on one flower. One that I LOVE using and one that I carried on my wedding day.
The Peony.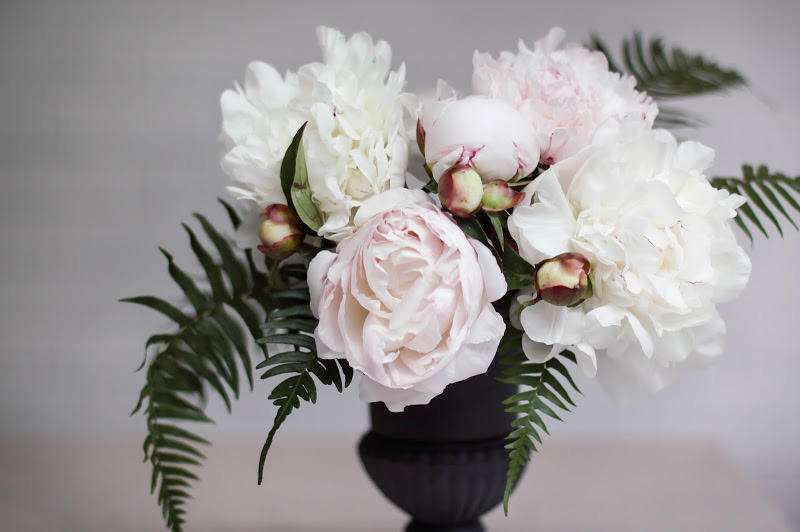 These are flowers that truly come alive during a wedding day – a bit like some brides perhaps. Starting off being a little timid, but by the end of the evening, they have really let their hair down as they open to reveal layer upon layer of petals. Some varieties change colour from the deepest shades of pink to a pale peach. It's almost like getting two for the price of one! But I kid you not when I say that the Peony can be a very tricky little bloom to deal with. Ensuring they are in the perfect state for your day is where your florist comes in. At times these majestic flowers can take a few days, even a week to open up – and others can go from bud to a fully functioning flounce in a matter of hours.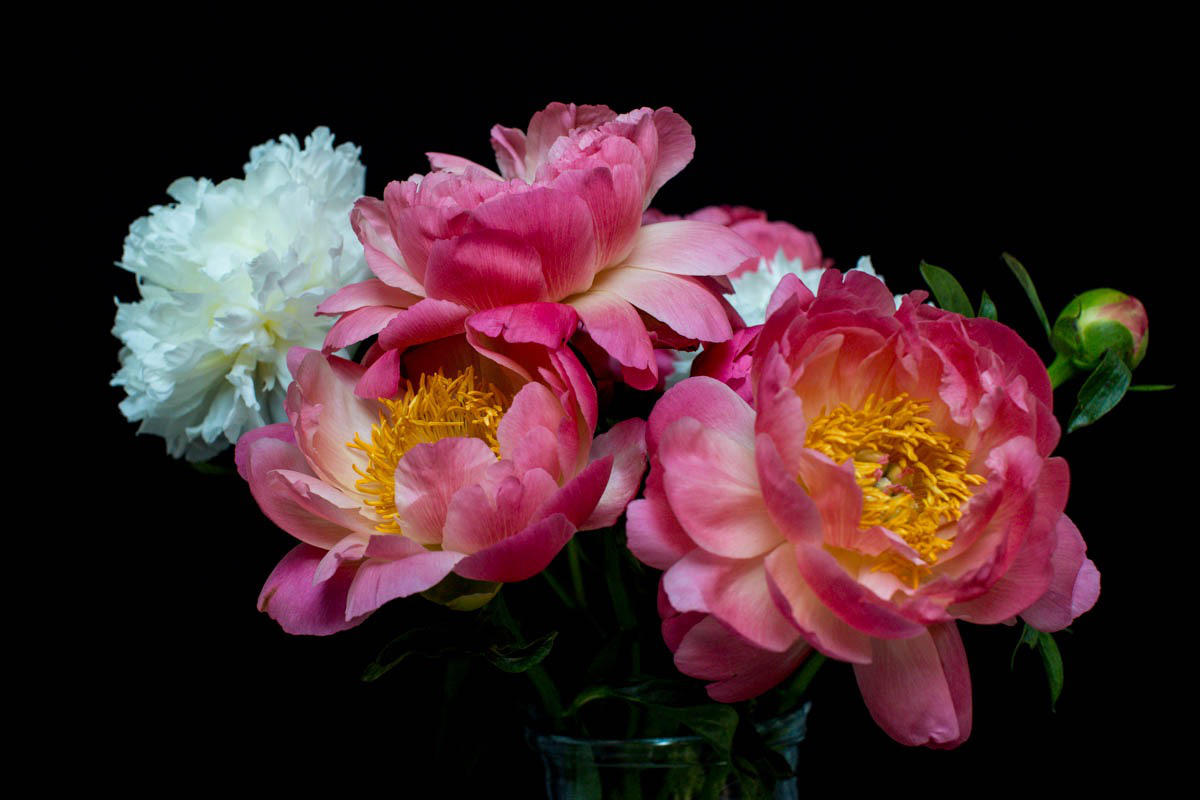 If you're after a neat and tidy style of bouquet then grouping the same variety together works beautifully. Back in 2007, this is what I had. A hand-tied domed style surrounded by masses of Myrtle. But if wild and extravagant is your thing, then they work just as well and look utterly striking alongside other seasonal flowers and foliage. I wouldn't recommend it as a buttonhole – they open up to be quite large. Trust me – before I was a florist Mr. Myrtle & Smith and I made this mistake on insisting he had one for our wedding day – let's just say he appears to be wearing a clown's flower in our wedding photo's – albeit a very beautiful clowns flower! Stick with something that compliments them.
There are many varieties of Peonies in colours ranging from the deep burgundy of Red Charm, through the hot pinks of Coral Charm and Coral Sunset, to the pale pinks and whites of Sarah Bernhardt and Mothers Choice, and they are all utterly beautiful. Coral Charm was a hugely popular choice with florists and brides alike last year and the desire to have these gorgeous blooms in bridal bouquets and arrangements isn't going away. And why would it?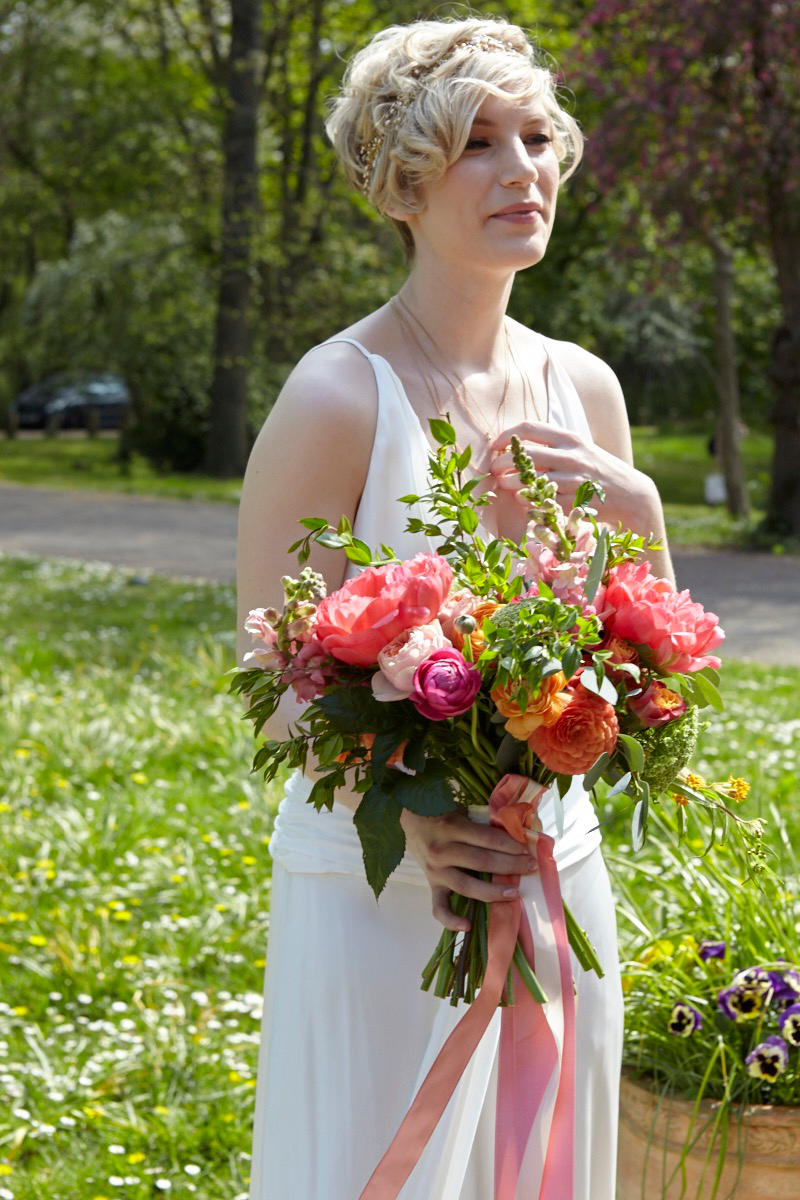 I recently used Coral Sunset in a bridal bouquet. Claire wanted a big and bold arrangement with lots of pink and orange. I used bright orange Ranunculus, Antirrhinum's [snapdragons] in fruit-salad shades [ the retro sweet – not a bowl of grapes! ] and masses of Myrtle foliage [ something I like to add to all my Myrtle & Smith flowers ]. I also added trailing ribbons in matching colours. She certainly thought it had the wow factor.
Their peak season is May through to July. You can get them outside of this, but they will cost significantly more and I do believe it's better to buy in season – you get the best quality that way. If you have your heart set on Peonies for your wedding then I would pick a date in May or June to tie the knot, when these mesmerising blooms are at their very best.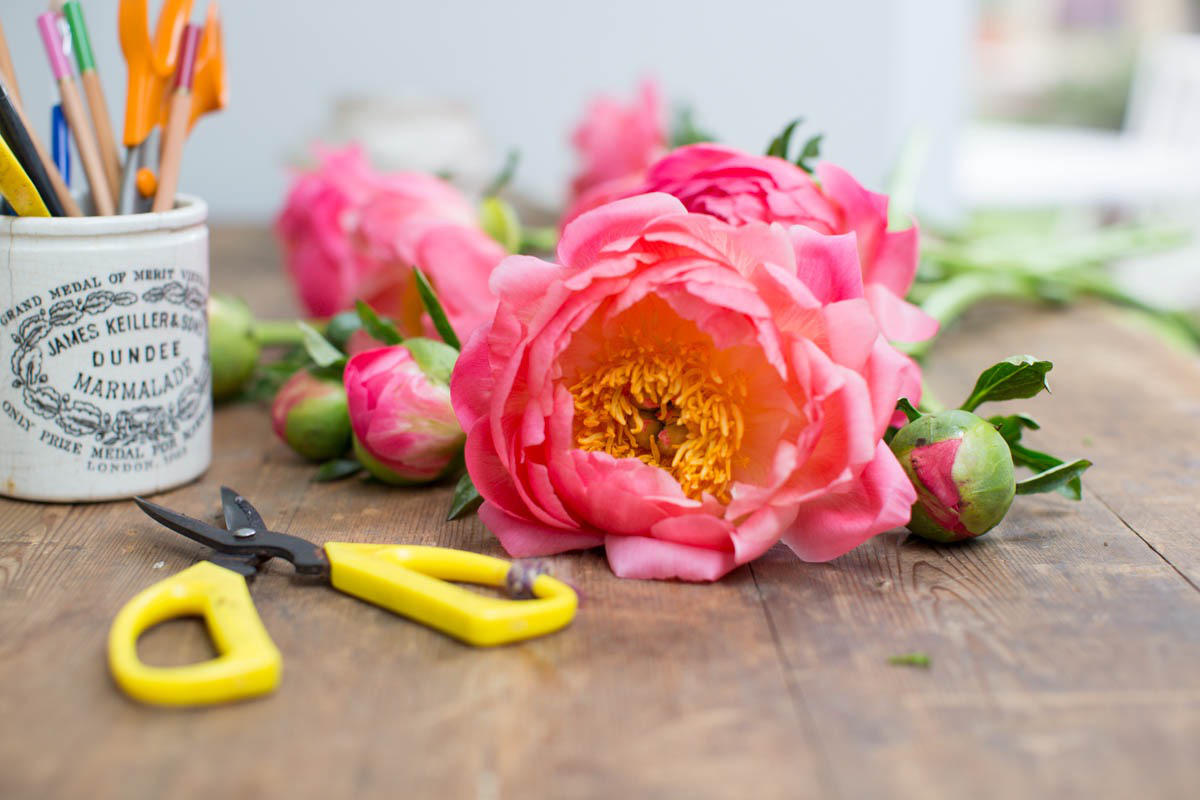 If you want to get in touch with Sarah or see more of her work, just go to the website here and if you want more information about how we can help plan your whole day incorporating flowers that are perfect for your wedding day, just get in touch with us here at info@carmelaweddings.co.uk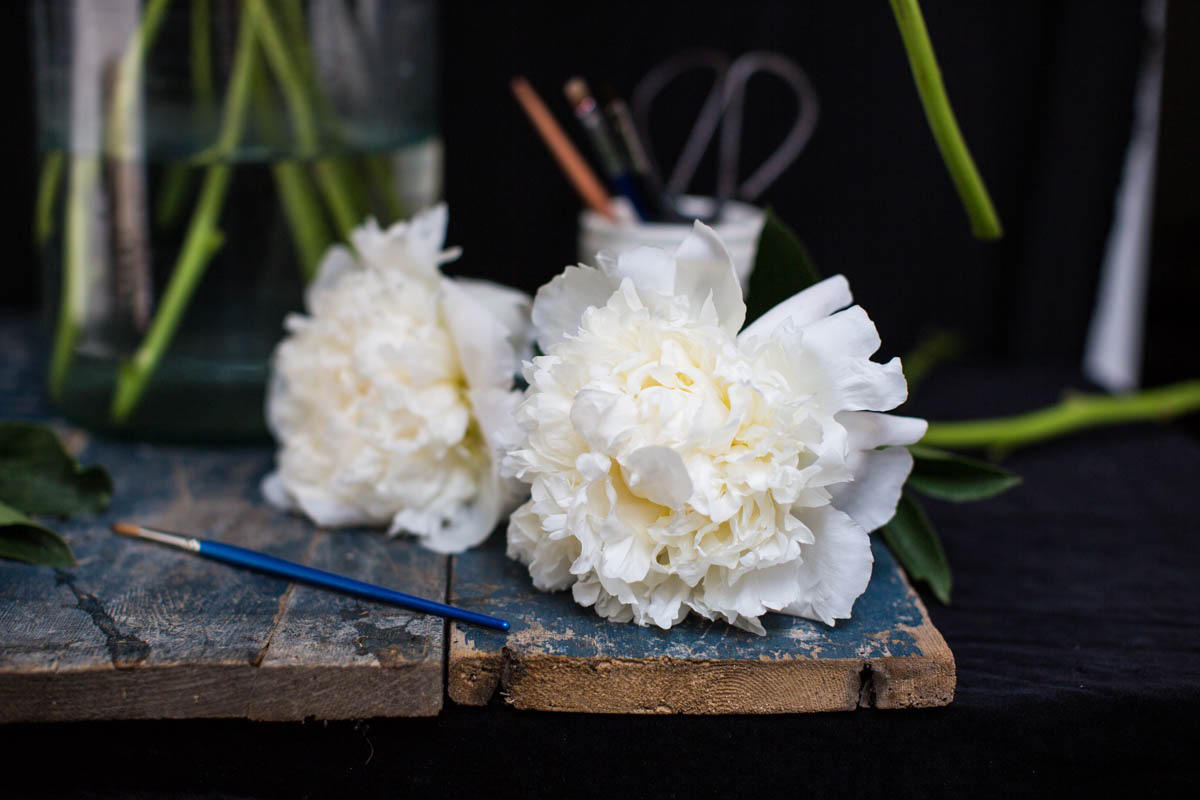 Photography Credits (in order shown)
www.carolinejonesphotography.com/www.myrtleandsmith.co.uk/www.carolinejonesphotography.com/www.luxeweddingsphotographic.com/www.carolinejonesphotography.com/www.carolinejonesphotography.com