Hi
I've had two conversations with brides this week concerning wedding dresses. One is due to get married and one has just got married. Both are my type of clients – they are a little alternative so didn't really want the traditional wedding and both didn't envisage themselves wearing the usual ivory long dress. The one that already got married said that in the end, she did wear a long ivory dress because she couldn't find any alternatives she liked and because everyone expected her to. This made me sad. It's your day – wear what YOU want! Be different!
The future bride has been to 3 wedding dress boutiques so far and has only been shown dress after dress that is long and either white or ivory. Two of the shops didn't have a single shorter dress!
This has me a bit miffed! We're all different, we all like to wear completely different styles so why is there such a lack of alternative dress options out there for your wedding day? When I speak of different styles to most boutiques they list 'fishtail', 'A-line' and lace or satin. These are hardly different styles – they are all versions of the same thing – a long ivory dress that clings at some point to your body. I'm not saying that type of dress isn't beautiful – it's just not for everyone.
I have seen a tiny bit of movement recently in some boutiques at least stocking shorter dresses and celebrities are leading the way with Solange Knowles wearing a pantsuit on her big day and several celebs recently wore skirts with white fluffy jumpers as wedding attire. Let this continue to be different! You don't have to feel you must wear something that isn't your style. There are alternatives to be found but for now, get inventive!
Here are a few alternative ideas for 2016 brides:
Different shapes
If the usual shapes don't suit you or just aren't your thing, add interest by finding something a little different. It doesn't have to be classed as a wedding dress or even be bought from a wedding dress boutique for you to wear it at your wedding. Think outside the box and if you find a dress you love, go with it! Customise if necessary! I love this shape from Elizabeth Stuart.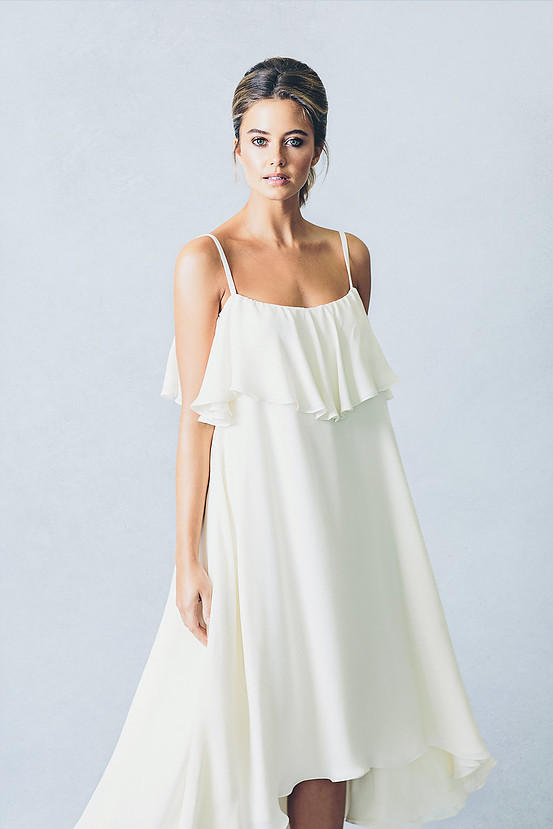 Shorten It!
Show off those legs. If you never usually wear a long dress and don't want to on your big day, don't. There are so many shorter dresses out there now. This Delphine Manivet skirt and top is so cute and I love that you can wear short and still have sleeves. Lots of brides like their arms covered so this works well for that too.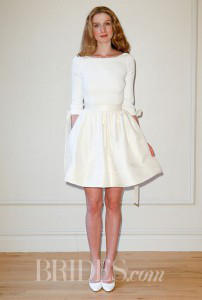 Inject some colour
Be bold with colour! The whole 'have to wear white to your wedding' thing is in the past. What colours would you love to wear? What colours suit you best? Good. Wear them! This blue number from Sarah Nouri is gorgeous and still completely luxurious!
And just look at this from Vera Wang!!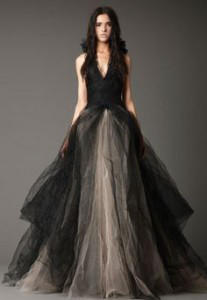 Textures and fabrics
Play around with fabrics. If you don't like satin, don't wear it! Lace can look lovely too. And if you don't feel right in a very tight dress, don't wear one. There are options out there for all sizes! One of my fave plus size dresses (I don't know why they insist on still calling them 'plus size' in this industry when it's been shown many times they are just normal size) is this Kiyonna dress. It's so lovely.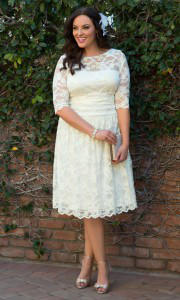 Don't wear a dress!
If the thought of any dress at all fills you with dread, don't wear one. It is becoming increasingly popular to wear a suit again and it can look so stylish!! Look at this one seen on the catwalks this season from Cymbeline.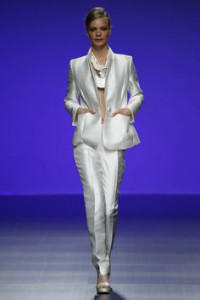 I hope that's given you some inspiration! Let me know if you need any help looking in your dress search!
Lisa x