Although we know every bride needs to look and feel beautiful on their wedding day, it's just as important that the groom feels stylish, confident and comfortable too and it's an area often overlooked! Choosing the perfect groomswear wedding outfit needs to be a combination of the style of your wedding and individual taste.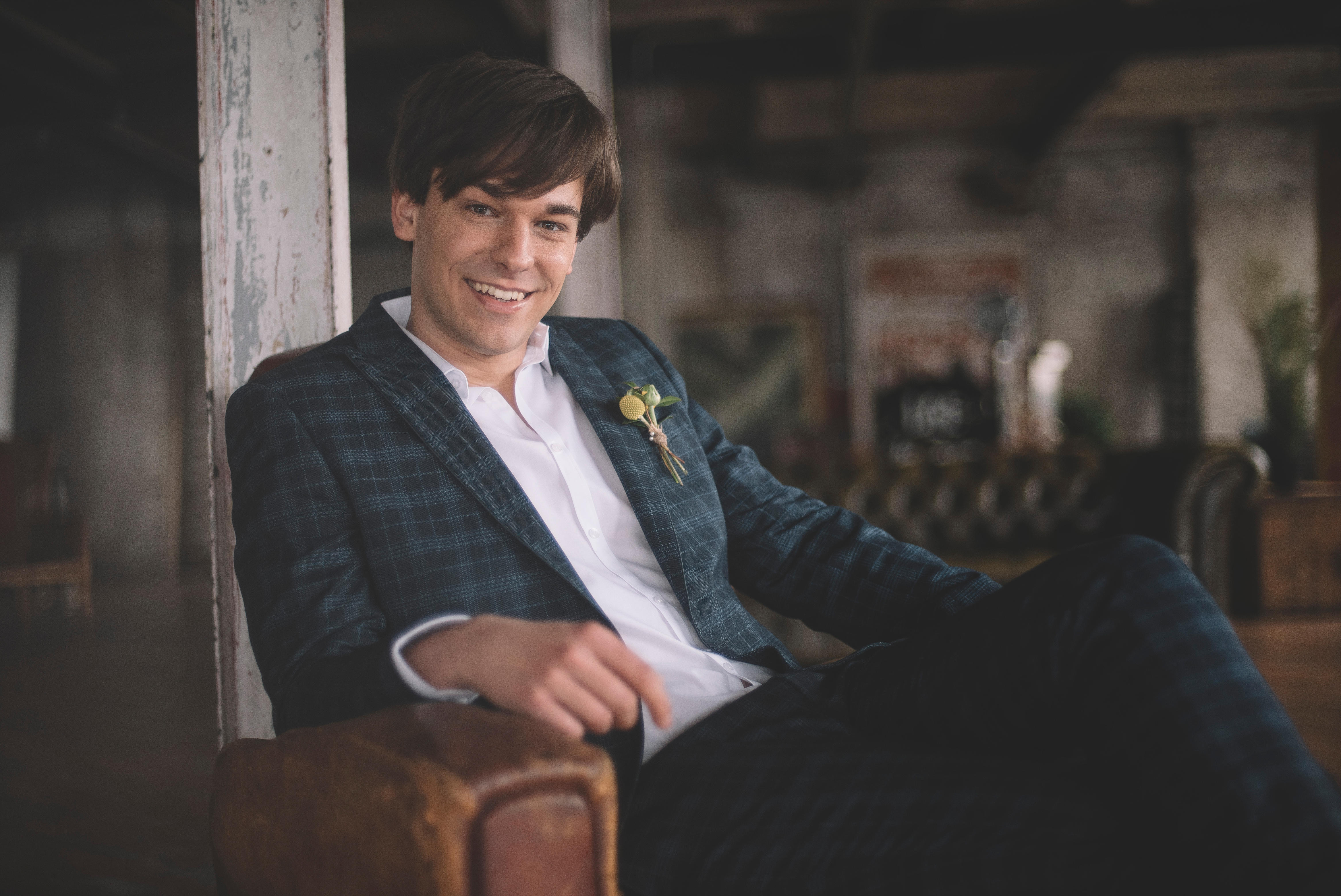 When it comes to groomswear attire there are a variety of different looks to choose from, so here's our trend report to give you some ideas, whether you're having a warehouse wedding, a country garden wedding or something completely unique.
If you're tying the knot in Summer or abroad, you might want to opt for something a little lighter, in both colour and material. Linen is a great option for the warmer months, particularly if you're planning a beach wedding. Cream linen trousers with a crisp white shirt look super smart while keeping you cool. Light grey is another fab option for a scorching Summer wedding, whereas pastel blue will add a subtle pop of colour to your attire.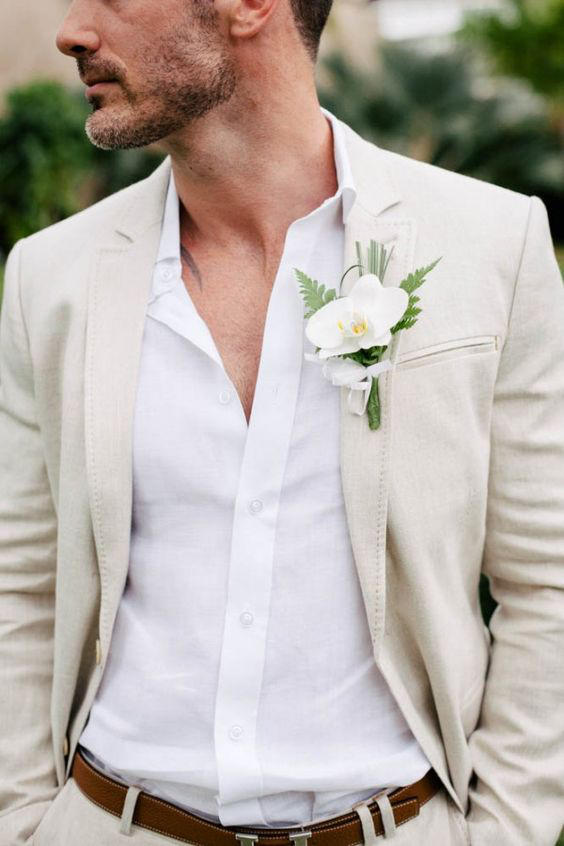 A look that is unlikely to ever date is the classic tux but we prefer it with a skinny fit edge. The most popular style among grooms, the tux is perfect for any season and is best suited to a formal affair. A bow tie will look smart if you're planning a glamorous affair but swap with a skinny black tie for a traditional look with a modern edge. It's easy to see why this dapper style will always remain on trend.
Tweed suits are undeniably handsome and you're bound to stand out from the crowd. They're great for Autumn or Winter weddings and look striking when teamed with rich colours such as burgundy, purple or navy. Tweed can be made to look wonderfully formal but is also easy to relax for a more informal look. If you're looking for something completely unique consider a velvet blazer (velvet is so in right now!). Suited to the Winter months, this is a completely romantic look that is guaranteed to wow. Midnight blue or wine red velvet blazers are made for the fashion-forward groom. Pair with chinos for a casual wedding day style. Textured fabrics such as tweed and velvet are a key trend for 2016/17.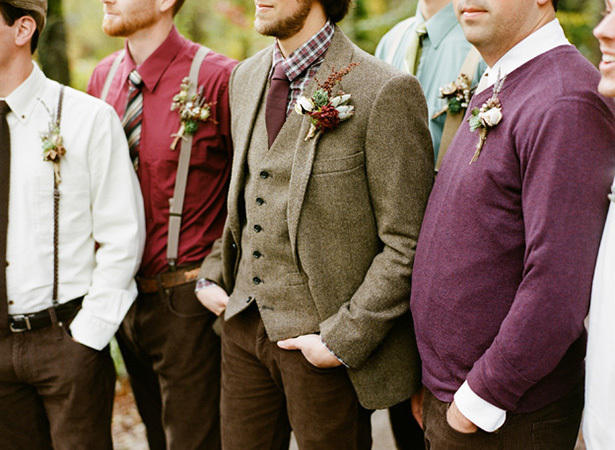 You can't go wrong with classic colours such as grey and navy, and there are always a huge variety of shades to choose from. Opt for black shoes if you're wearing grey and smart brown shoes if you're donning a navy suit.
If you want something a bit more fun and with more personality, there are some fabulous bright yellow, orange and blue suits out there. Our favourites can be found in our favourite menswear tailor Adam Waite in Chiswick.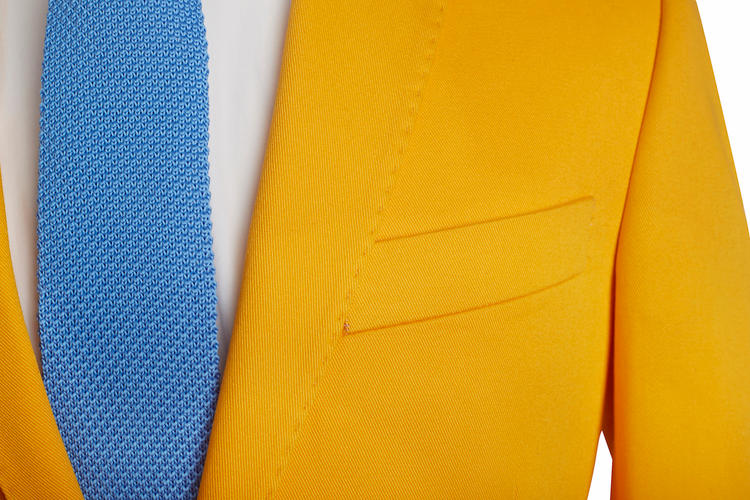 Add a personal touch to your style through your accessories. Pocket squares are making a comeback on the wedding scene, and rather than wearing plain block colours, choose bold patterned styles instead.
Planning a vintage wedding? Add a pocket watch chain full for the full effect – this subtle accessory adds a touch of grandeur. Groomsmen always look handsome in braces and are a fab alternative to waistcoats. If you want to keep your accessories really simple, all you need is a tie clip. These are seriously on trend for 2016 and look swanky with any suit, especially if matched with your cufflinks. Match your buttonhole to your bride's wedding bouquet for a coordinated look or change things up by forgoing the traditional flower buttonhole and donning a paper pinwheel instead.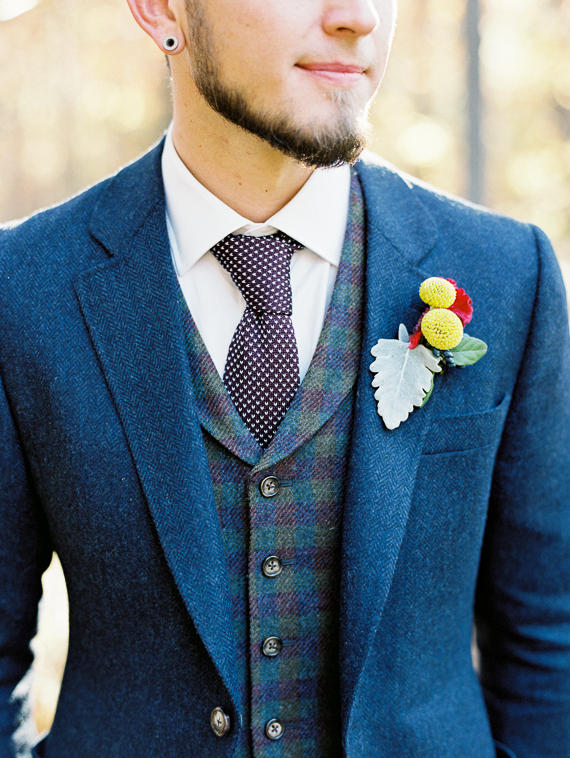 If you want to inject a splash of colour into your look while still looking smart, the easiest way to do this is through your tie. Colourful, patterned bow ties are fun but look a little more relaxed to the traditional groomswear look – they're an easy way to reflect your personality too.
When choosing your wedding outfit, it's important to think about the day in question. What style of wedding is it (is it an urban wedding, a warehouse wedding, a City wedding, very formal, relaxed style, etc), what time of year will it be and what would you feel most confident in? There are absolutely no rules when it comes to groomswear so have a play around and choose something that's very you!
If you need help with any aspect of planning your wedding, we can help. We plan weddings in London, Surrey and Internationally, so do contact me on sam@carmelaweddings.co.uk if you need assistance.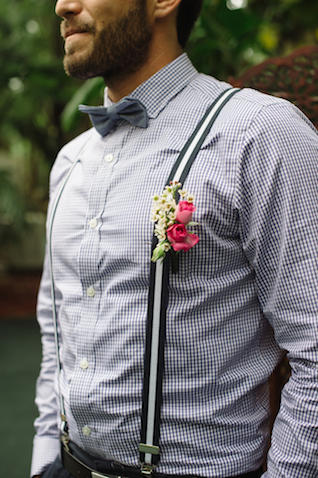 Photography Credits (in order shown)
www.emma-janephotography.com / www.vanillaphotography.co.za / www.ryanrayphoto.com / www.adamwaite.co.uk / www.whenhefoundher.com / www.bluesparkphotography.com