At Carmela Weddings, we like to do things a little differently; we don't believe in wedding rules and think you should have the wedding you want, where you want. I love a relaxed and fun celebration and I especially love them in the sunshine! Being half-Maltese, I always knew I'd end up combining my love of weddings with my passion for the beautiful island of Malta. My family still live in Malta and so I'm there a lot – it was only a matter of time before I started specializing in helping couples get married there. I'm so in love with the place that I'm even getting married there myself in less than 2 weeks! Most of the big fiestas happen during June, July and August too so if you're lucky you'll even get a display during your wedding.
There are so many picture-perfect venues from the very grand to the cute and quirky – here are my top 5 sunshine civil wedding venues but there are plenty of amazing churches too! If you have any questions on any of these venues or are looking for something a little different, just email me on lisa@carmelaweddings.co.uk.
Ir Razzett L'Abjad
This gorgeous 200 year old traditional farmhouse is so pretty! It can hold 500 but there are plenty of ways to use the space for smaller more intimate weddings too. You can say your vows under the sunshine and vines and then party by the pool or for larger parties, head inside and use their stunning marquee.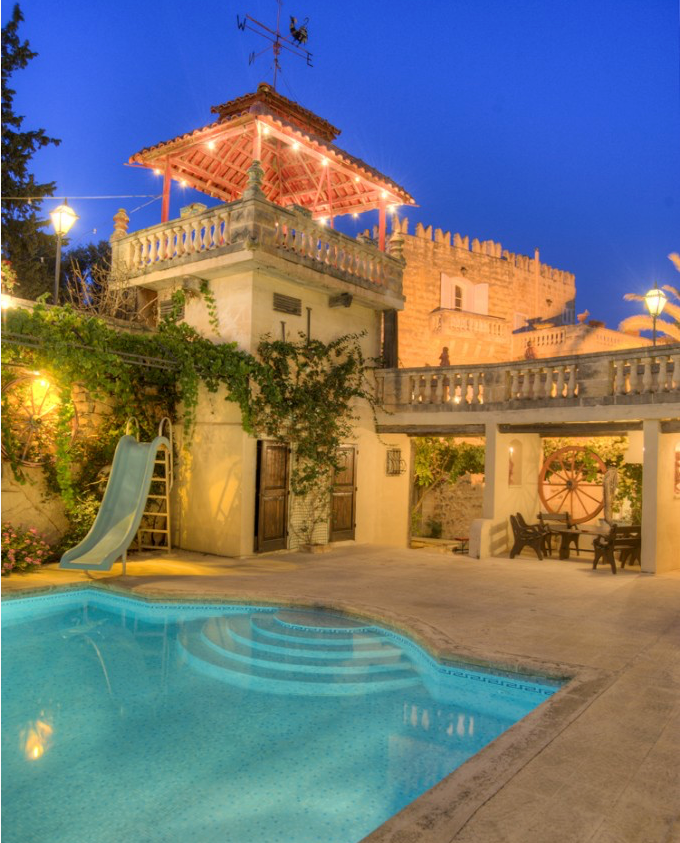 The Phoenicia Hotel
Who says you can't do a City wedding on a small island? The Phoenicia is smack bang in the centre of Malta's capital Valetta so is also a great base for all your guests and can cater for weddings up to 1000 guests. I particularly love the Rotunda for smaller weddings of up to 120 – it's set around an original art deco fountain and gardens so feels traditional but with a modern twist because of where it is. The food is amazing here too.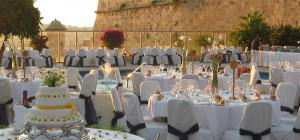 The Xara Palace
This is the only hotel in the 'silent city' of Mdina. No cars are allowed in the medieval, walled town (other than a few residents and wedding cars) which makes it such a peaceful, calm place. There's so much history around you – legend has it that it was here, in around 60 CE, that St. Paul lived after his shipwreck on the islands.
The hotel itself is a 17th century palace and a celebrity haunt – if it's good enough for Brangelina! There's a little piazza right outside the hotel where you can hold your sunshine wedding which looks just like a film set or for more privacy, their stunning atrium holds up to 150.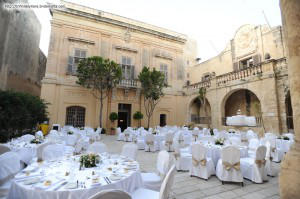 The Westin Dragonara Resort
For a relaxed, sunset wedding at the water's edge, I like the 5 star Westin resort. The hotel has the space to cater for different sized parties so that if you only have a few guests, they won't look lost in the venue. Think twinkly lights, gazebos , sunshine and cool white sofas for the right vibe. They have over 10 different venues to get married in at the hotel but for something fun and quirky I'd go for the Bedoin Bar.

The Black Pearl
If you want something unique, how about having your reception on the Black Pearl? It's a huge ship that was used for films Popeye and Pirates of the Caribbean. It has a few locations dependent on numbers – the terrace is fun and is used a lot for fashion shoots these days. You could go to town on theming your sunshine wedding here!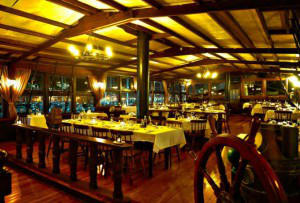 I hope that's given you some inspiration! I'll let you know how our wedding goes in a couple of weeks!
Lisa x