Autumn is on the horizon so we've channelled our design brains into a more cosy and elegant moodboard this month using fabulous Scandinavian influences in a Scandi Elegance theme.
Keep things soft and pretty with blush colours and lots of greenery but with angular of jagged structures to bring in the modern (branches and twigs do the job well!) and use minimalist shapes and geometric pieces to add to the theme.
Bring the outside in as much as you can and play with textures such as wood and stone. Keep stationery simple and contemporary to complete this warm and on-trend look.
With bridal style, keep makeup soft and simple but make sure it's all about the hair by experimenting with large soft braiding. You can go almost bohemian with the dress as soft and flowy is the key to this look.
Have fun with it – it's such a great Autumn/Winter wedding look and works brilliantly for a fashion-forward couple!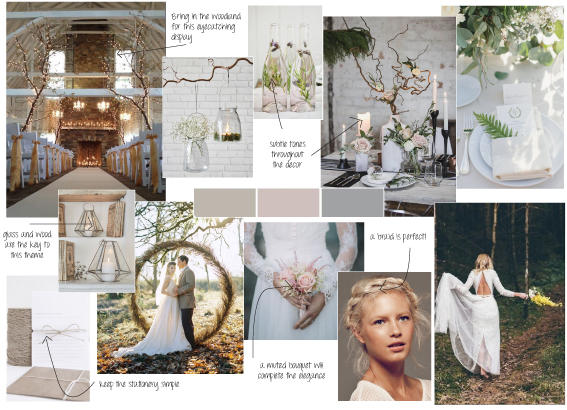 As the industry leader in modern, luxury weddings, we're experts at balancing the need to embrace current trends in a timeless, stylish manner.
Led by a husband and wife team, we have over a decade of experience in event management. Combined with a great eye for design, and flawless organisational skills we create stunning weddings, that are planned to perfection. We love to introduce design elements from eclectic sources to complement our fundamental belief – real style never goes out of fashion! And with our roots firmly in entertainment, we really do know how to put on a great party!
Most of all, we aim to ensure every element of your day is uniquely 'you'.