Yellow is a colour that isn't afraid to stand out from the crowd and it's the perfect choice if you want a statement colour scheme for your special day. Vibrant and impossible to ignore, yellow is a surprisingly versatile shade that looks incredible teamed with various other colours and elements.
Mustard yellow is typically teamed with navy or grey but you can also pair it with greenery and foliage for a vibrant botanical celebration. Fancy a tropical-themed wedding day? Simply use mustard yellow as the main shade, with flamingo pink and leafy green as accent shades.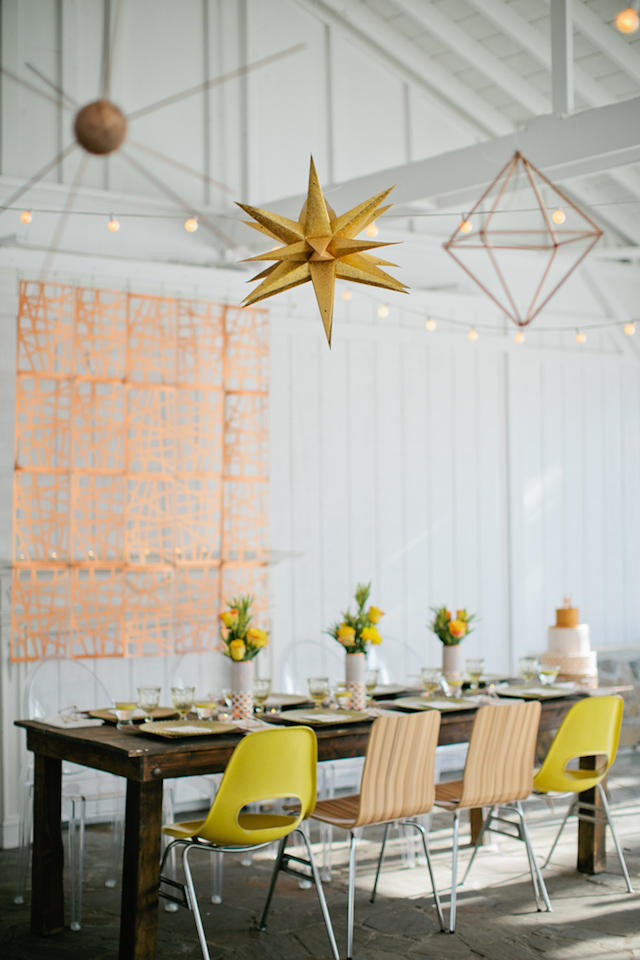 We think a mustard yellow colour palette and an industrial wedding venue are the perfect ingredients for an incredible wedding day, don't you? When it comes to decorating an urban or warehouse space, there are so many different ways of reflecting your theme. From neon yellow lighting, geometric backdrops or hanging installations bursting with yellow blooms, you can effortlessly add a pop of colour to your venue.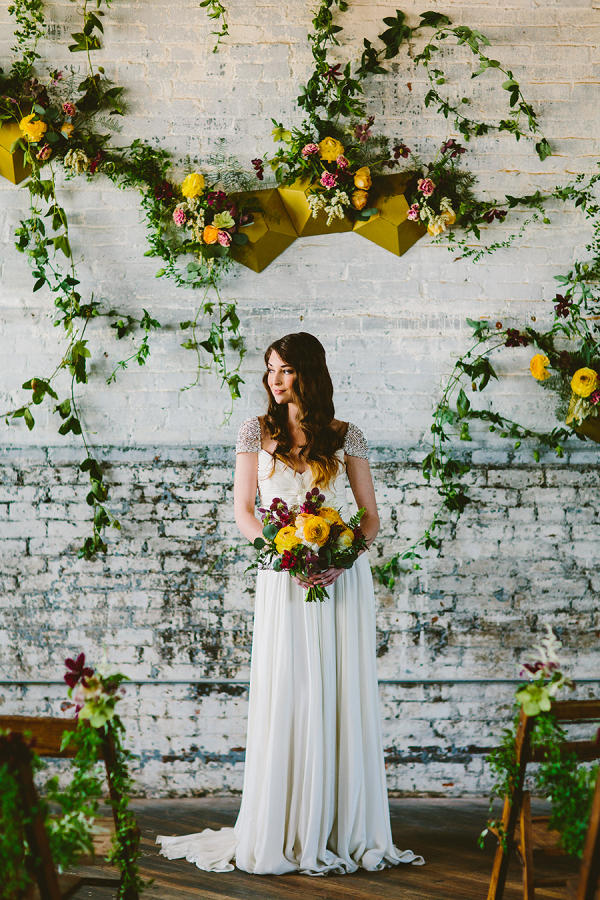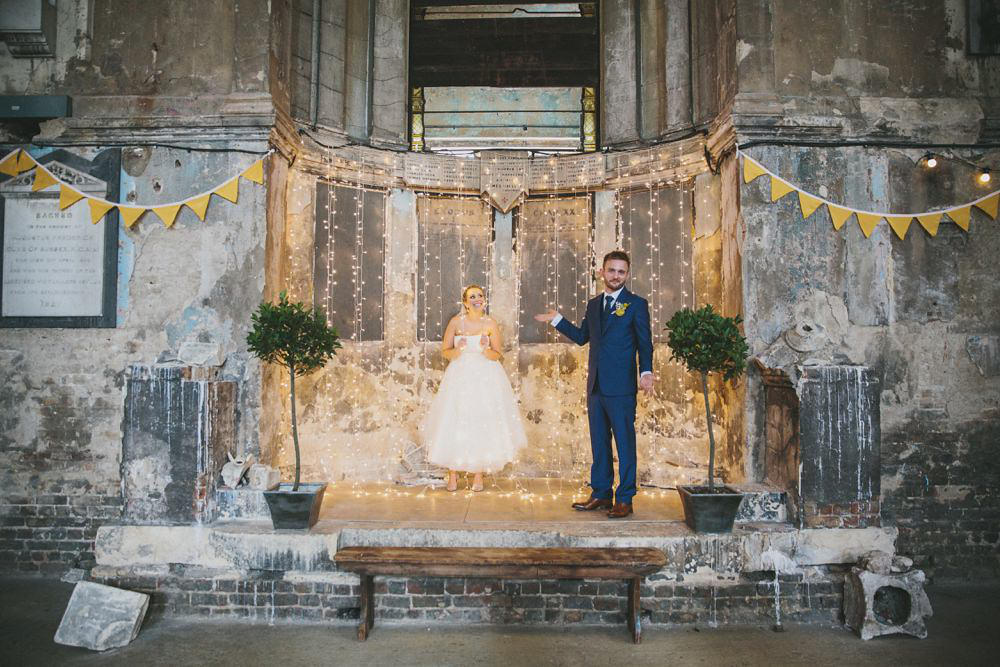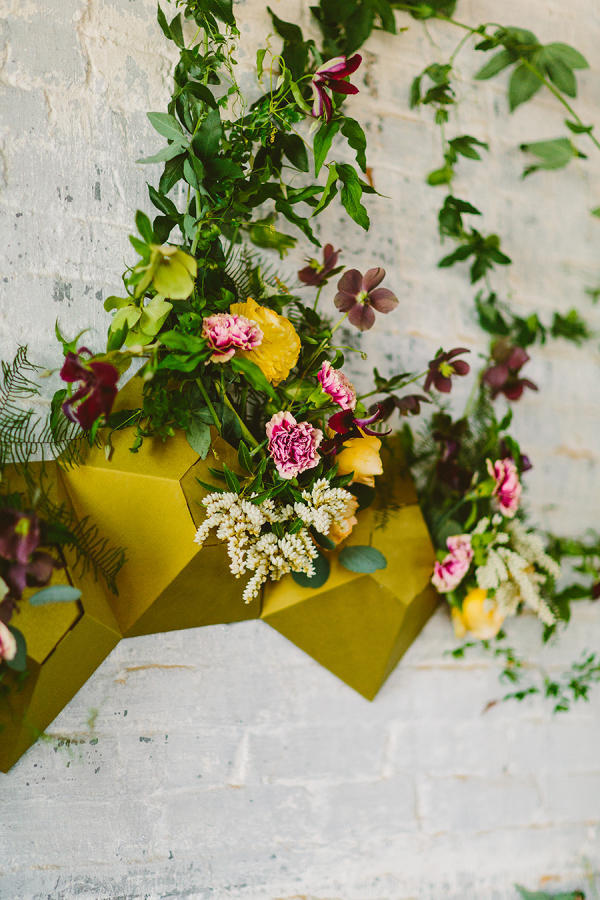 When it comes to your aisle style, we suggest keeping it simple, chic and understated. Add a few subtle hints of colour here and there, such as a pair of mustard yellow heels or a cute jacket and some yellow accessories. A bouquet brimming with gorgeous yellow flowers should be enough to tie in your bridal look with your wedding theme.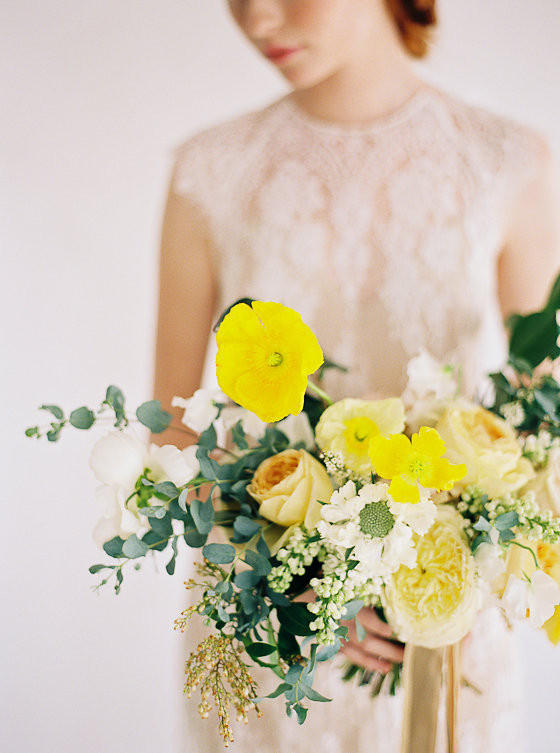 While yellow may not be the first option you think of for your best girls, your bridesmaids will absolutely rock mustard yellow gowns. Alternatively, a two-piece ensemble will look ultra-stylish. A simple crop top teamed a yellow skirt will give your ladies' wedding look a modern vibe.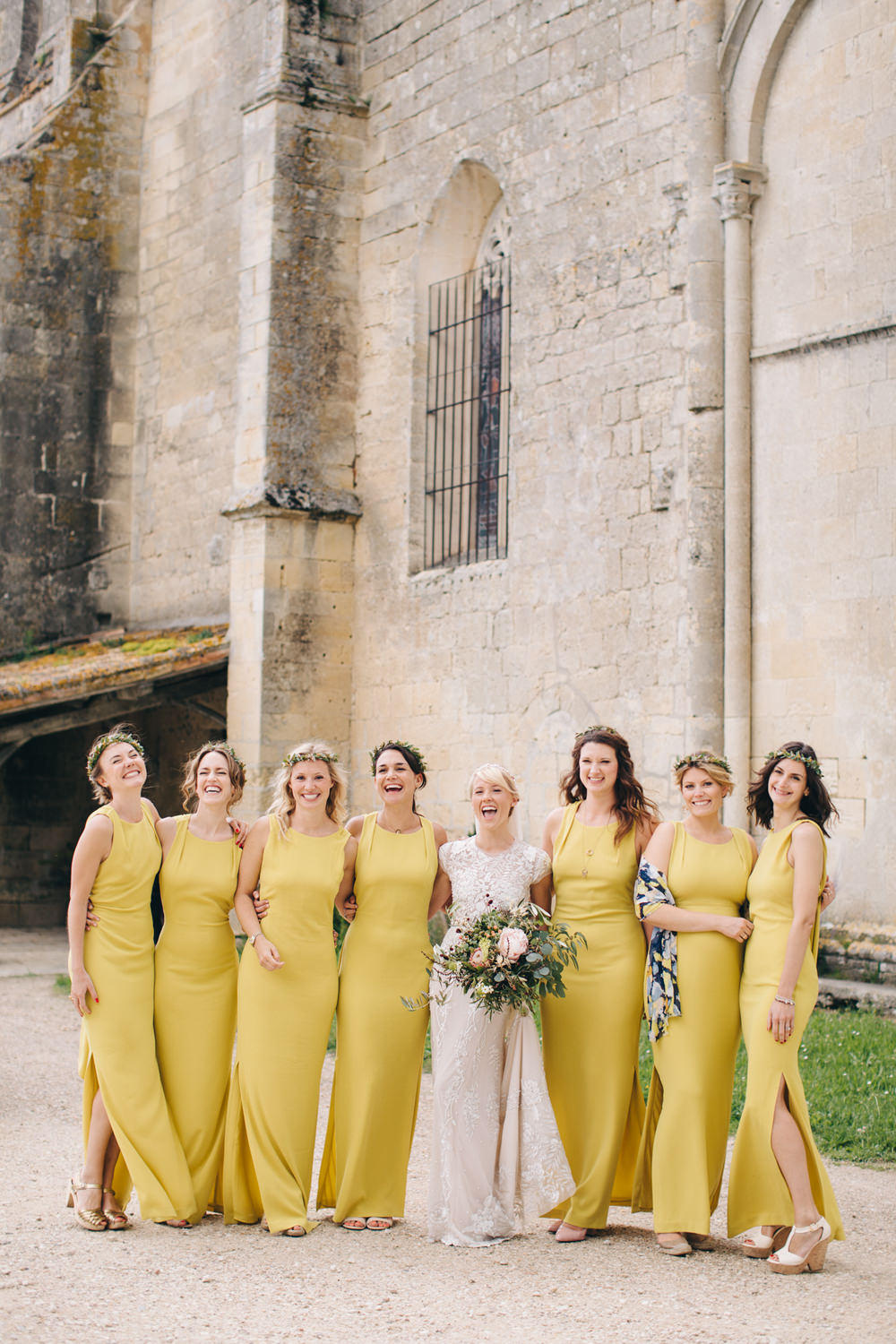 As for the groom, a mustard yellow wedding colour palette lends itself to a number of options. Team a yellow tie, bow-tie or button hole with a navy or grey suit. You could even get the groomsmen to wear bright yellow socks – it would look great in your wedding photographs as a group shot.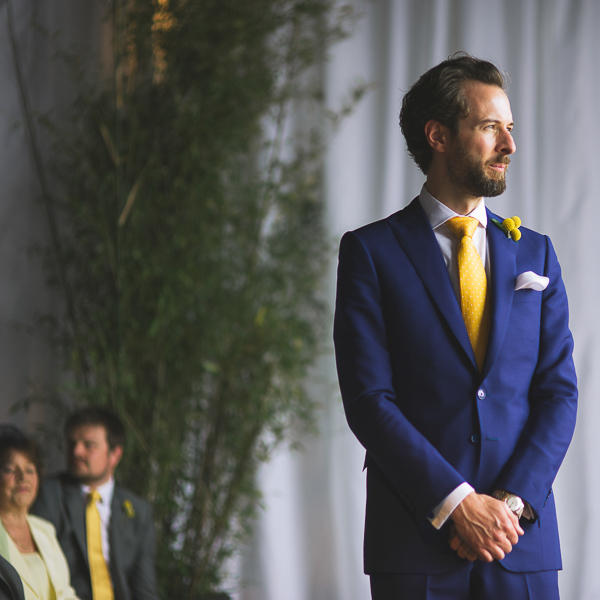 Why not add a few yellow chairs into your ceremony space for a fun splash of colour? While all yellow chairs may look slightly overpowering, the odd one here and there will help to tie your theme in together. While we're on the subject of your wedding ceremony, we just love the thought of tying your wedding ring box with a simple yellow ribbon. You could even use the ribbon after your big day as a lovely reminder of your ceremony.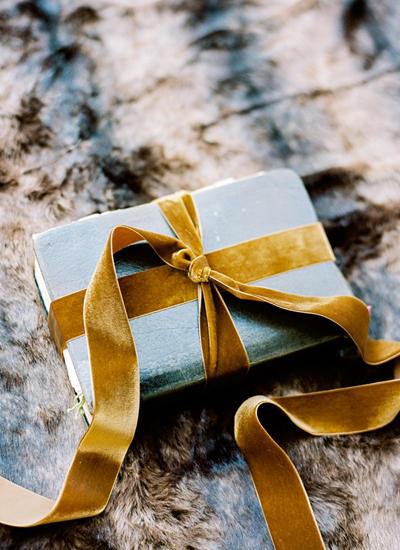 When it comes to decorating your wedding tables, opt for yellow candlesticks, stationery or napkins. Experiment with your place settings to find out what you think works best for your special day. You may love going all out with your colour palette, or you might think that a few subtle touches have more impact. Make the top table stand out with huge yellow letters spelling out your initials or 'LOVE'. They'll look fab and will give your wedding a personal touch.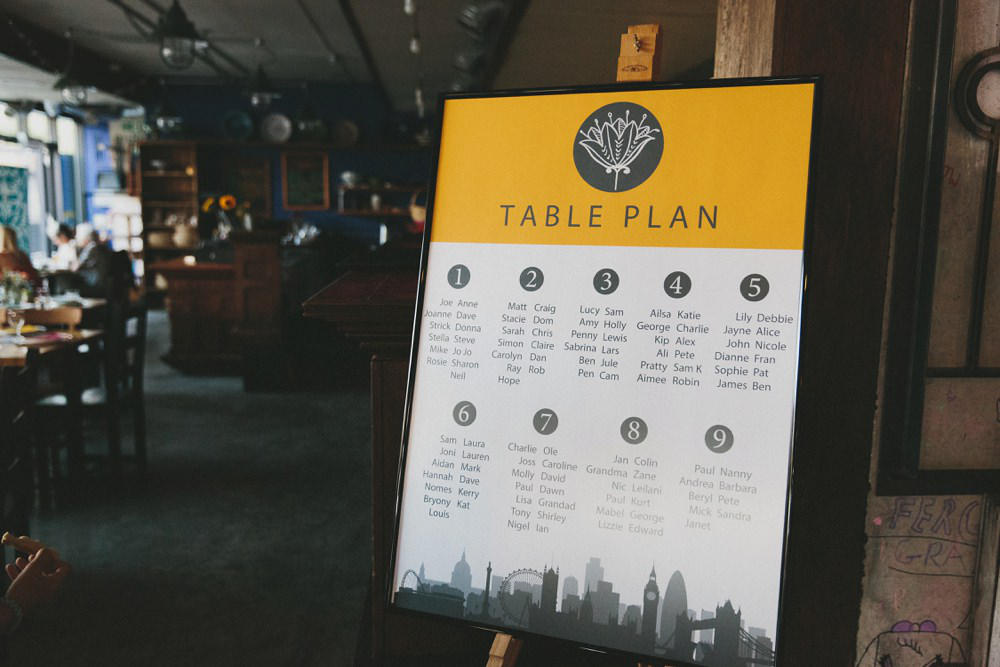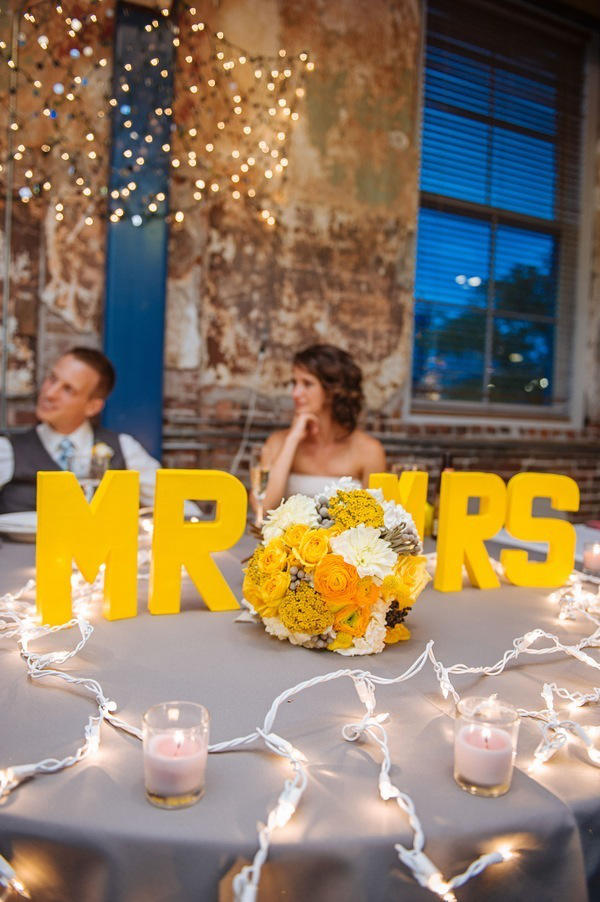 A mustard yellow wedding theme is guaranteed to bring sunshine to your bigday, no matter what the weather. It's fun, modern and seriously stylish.
Related Tags: Wedding Planners Surrey
Photography Credits (in order shown)
www.kristynhogan.com / www.redfieldphoto.com / www.mckinley-rodgers.com / www.redfieldphoto.com / www.aprylann.com / www.mandjphotos.com / www.kristianlevenphotography.co.uk / www.finchphoto.com / www.mckinley-rodgers.com / www.urbansafariphotography.com