Today's feature is about one of the biggest wedding trends for 2017 and it's one you may have seen plastered all over Pinterest: hanging installations. These striking masterpieces can be used anywhere throughout your wedding day – from your venue entrance, ceremony space or even as your table centrepieces. So if you're looking for statement wedding décor with huge impact, a hanging installation will certainly be right up your street.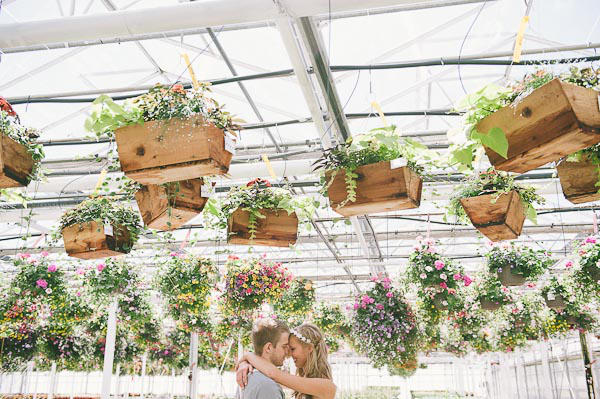 There are so many different styles to choose from when it comes to a hanging installation for your wedding. Couples seemed to be mainly focusing on foliage and blooms, but fashion-forward weddings are now starting to incorporate metallic elements, geometric designs and even edgy lighting, especially for a warehouse wedding or urban wedding.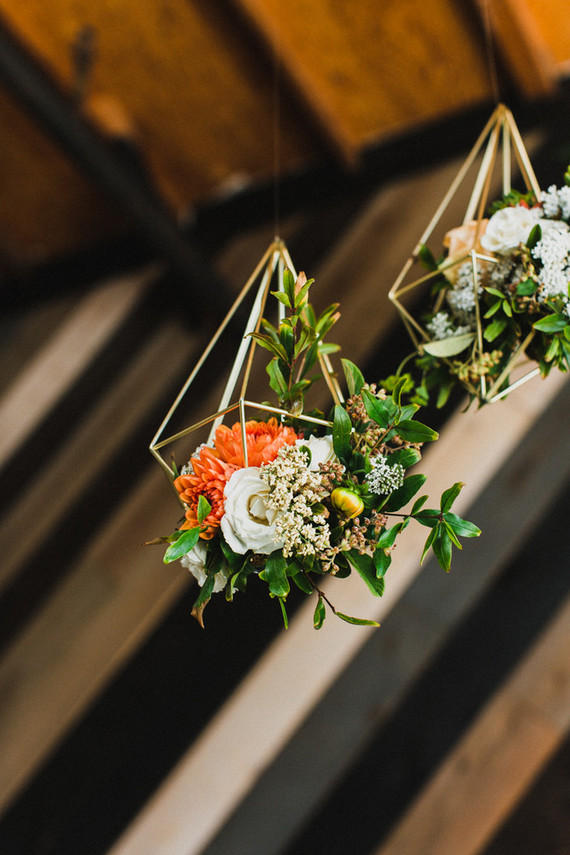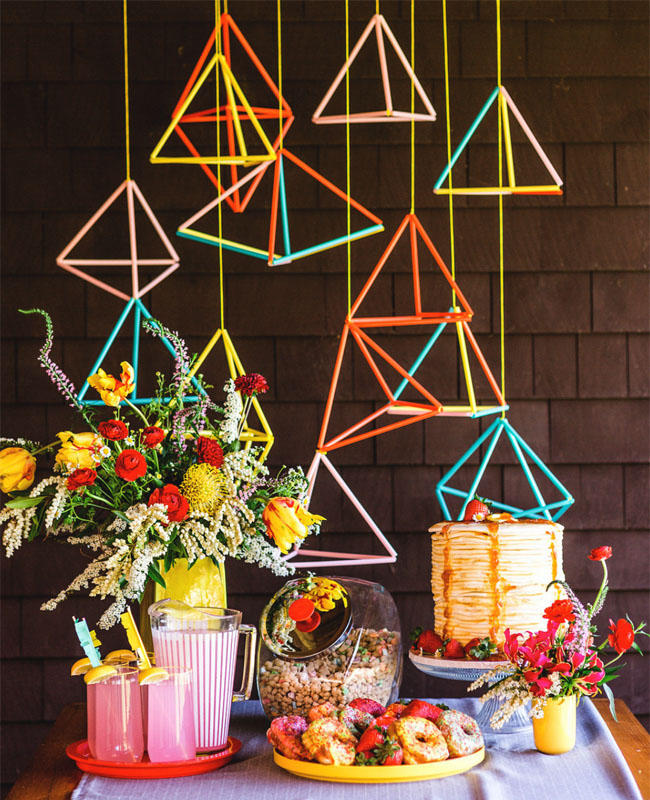 Copper, gold or bronze geometric vases brimming with wild greenery and flowers look incredible hanging from beams in your wedding venue or surrounding the entrance of your reception. They also create a unique and stylish ceremony backdrop. Hang a variety of shapes and sizes from a wooden or metal archway for a chic ceremony space. If you're having an outdoor wedding, you could even hang a few from the trees to create your hanging installation.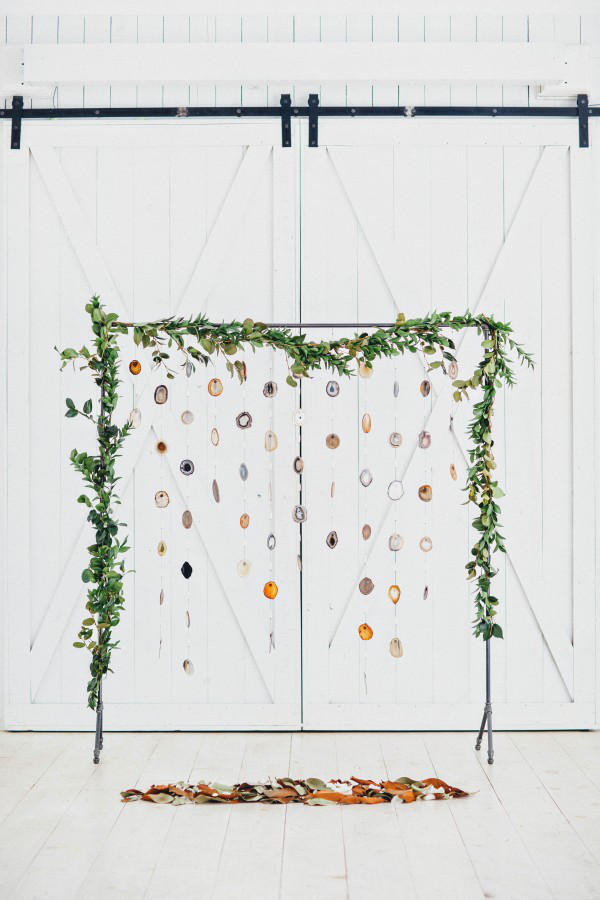 If you're lucky enough that your wedding venue has lots of exposed wooden beams, make use of them for your table centrepieces.  Drape gritty Edison bulbs across the beams and work in lots of untamed greenery. Don't forget – greenery is taking the wedding industry by storm this year so you can guarantee it'll be on-trend. The combination of wooden beams, Edison lighting and greenery creates a 'botanical paradise meets urban affair' wedding vibe. The perfect choice for a factory, loft or warehouse wedding. If you haven't got beams at your wedding venue but you love the idea of teaming wood with greenery, why not hang a selection of weathered wooden crates from the ceiling of your wedding venue? Fill the crates with different types of foliage and let the installation do all the talking. Alternatively, a handful of driftwood is a simple yet striking choice for a hanging centrepiece. It fits with a wedding theme inspired by all things 'Hygge'.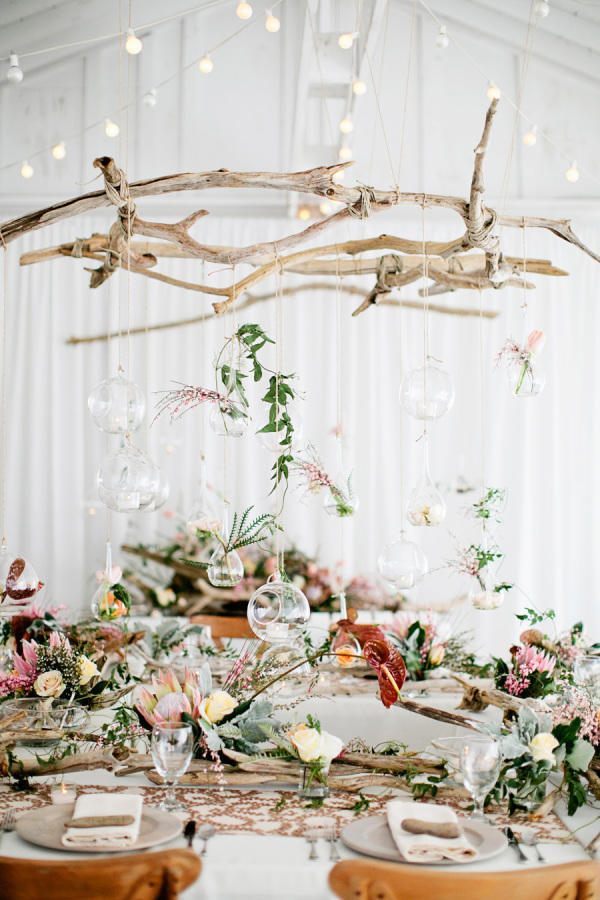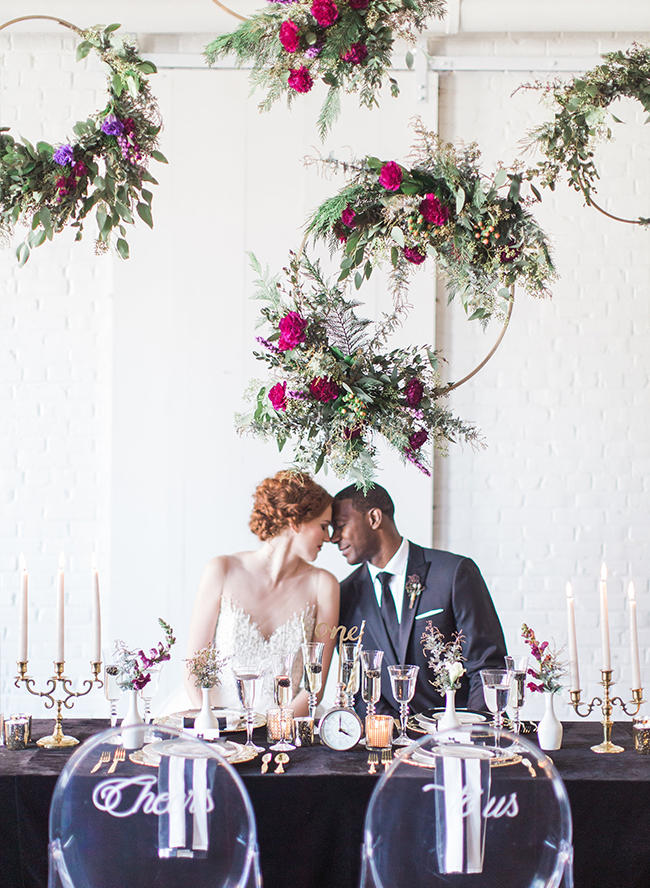 Hanging metallic rings adorned with blooms and foliage add a feminine and modern touch to a minimalist wedding. Line them along the length of trestle tables for a unique table centrepiece that your guests will adore. You could also hang individual stems of blooms with string from the beams. This is a simple idea that has the maximum visual impact – and it's a handy DIY job that you can do before the big day. A canopy of carnival-inspired ribbon garlands will look incredible draped across the ceiling of your wedding reception. It'll immediately inject a splash of colour into even the simplest of wedding venues and you won't need to do much else in terms of décor with an amazing hanging installation.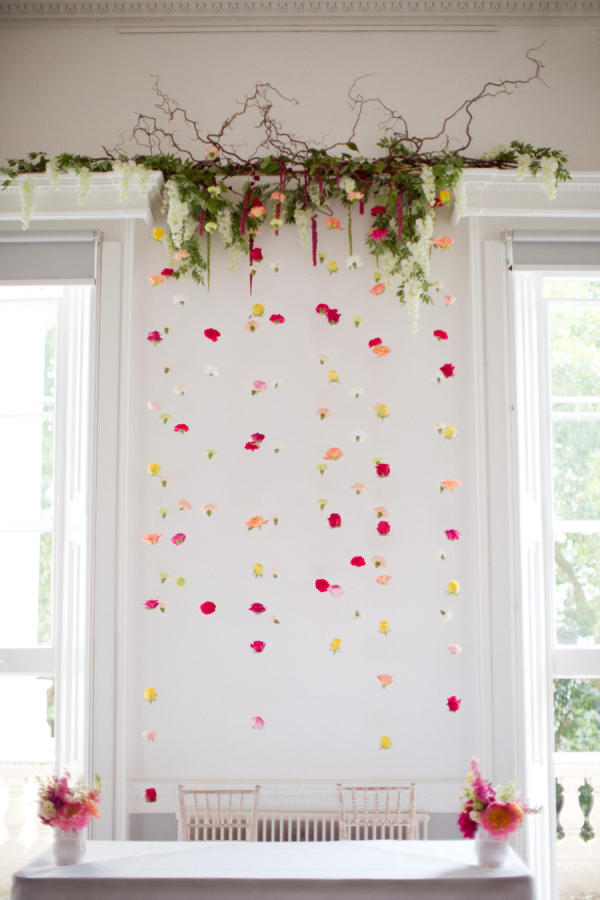 You may have seen our blog post about using geodes at your wedding, and they make fabulous hanging installations too. Tie a variety of geode pieces to a beam or metal bar and hang them above your wedding tables or your ceremony space.
Not only does a hanging installation look incredible, they also save you heaps of space on your wedding tables – especially if you're having long banquet tables. Your wedding venue will need to have high ceilings to be able to accommodate these gorgeous hanging installations, so if you've got your heart set them on, do make sure you discuss it with your wedding venue before booking. We could go on for days about how to create a show-stopping hanging installation for your wedding, but hopefully, our collection of gorgeous images will help to inspire you.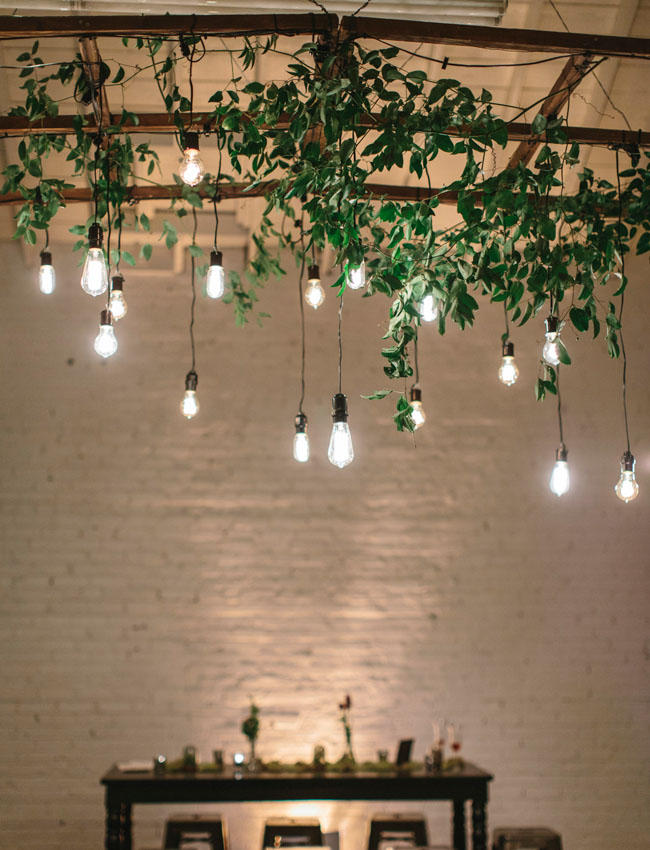 We're now fully booked for 2017 but if you'd like us to create an amazing urban wedding for you in 2018, do get in touch as we still have a few spaces left! Just email info@carmelaweddings.co.uk.
Related Tags: Wedding Planners Surrey
Photography Credits (in order shown)
www.sharaleeprangphotography.com/www.mapleandelm.com/www.rodeoandco.com/www.cassieloreephotography.com/www.kristynhogan.com/www.katienesbittphotography.com/www.caughtthelight.com/www.radandinlove.com