Gold is one of the most popular colour choices out there for weddings and it's perfect for a Winter wedding. Team it with gritty urban and industrial elements and you've got yourself an ultra-chic theme that's made for the festive season and perfect for a City Wedding.
Have you ever considered rocking a gorgeous gold wedding gown? This is a wonderful alternative to a traditional white dress and it's a fab choice for a stylish bride who wants to make a statement. Whether it's made from gold sequins, glitteror vintage fringing you can count on it make you feel like a million dollars. Your groom-to-be will look handsome with a simple gold or mustard yellow tie and a plush navy suit.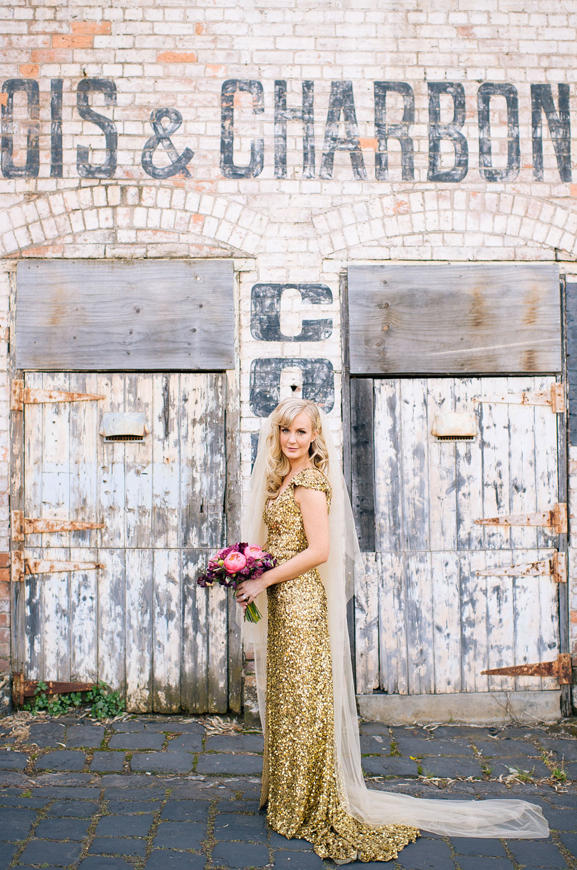 If you're planning a warehouse wedding, you'll know that good use of lighting is essential. It's particularly important during the Winter months – there is nothing worse than a dark and gloomy wedding venue! We recommend draping chic Edison light bulbs from the ceiling or above your reception tables. They'll look stylish and will give your venue space a warm and cosy glow, which is a must-have in the Winter! Light-up letters are a fun and unique way of giving your venue an extra burst of light. Why not place the letters around your dance-floor or ceremony area?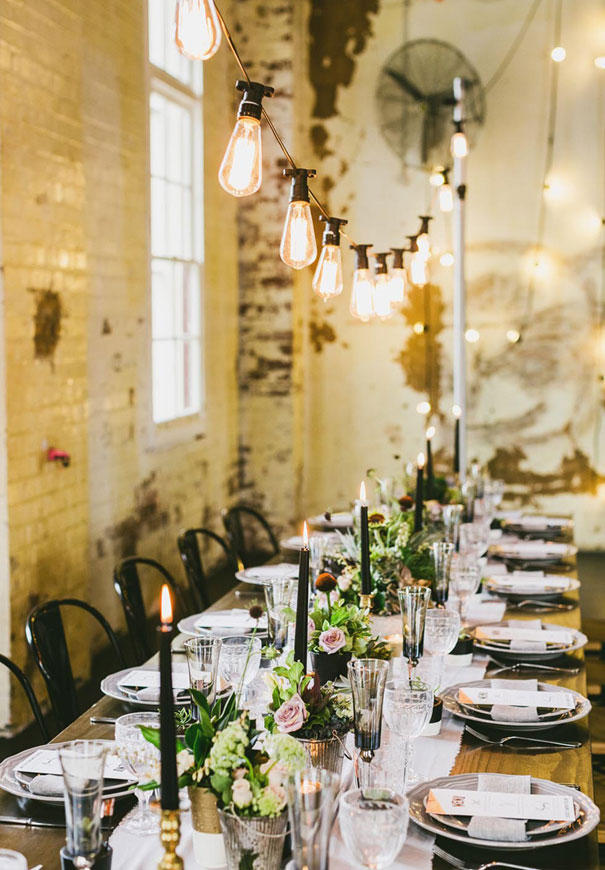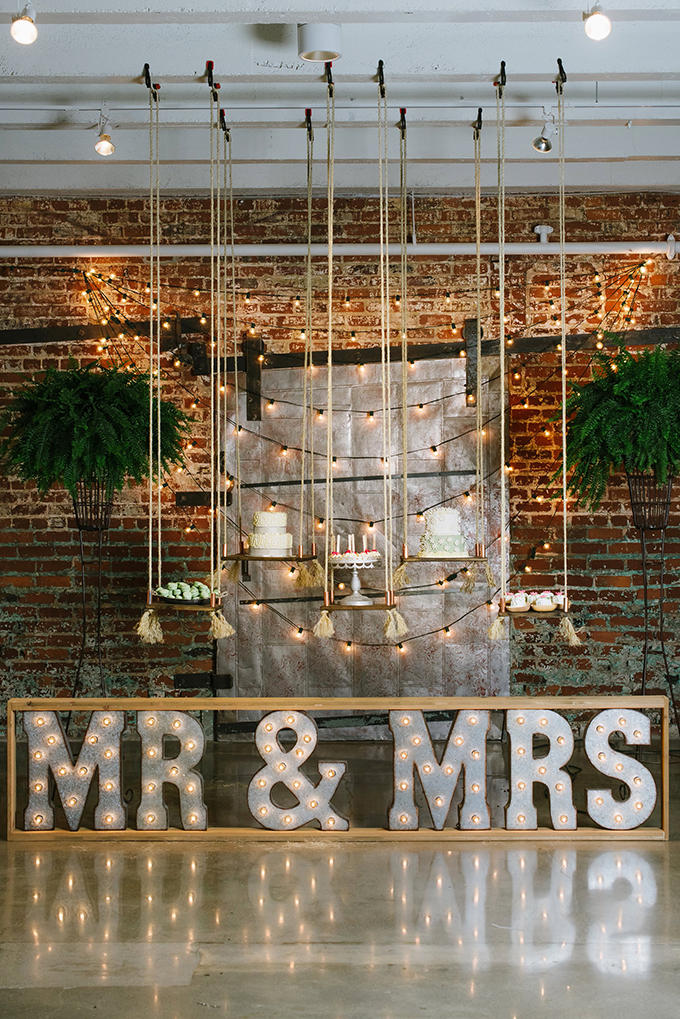 Let's take a further look at how to decorate your ceremony area. If you want something that's truly unique, listen up! Use a traditional ceremony archway as inspiration and create an industrial gold archway using metal pipes. Simply adorn it with your favourite Winter blooms and you've got yourself the perfect place to say 'I Do'. You could drape sequins, ribbon garlands or even mini Edison bulbs around it for extra impact.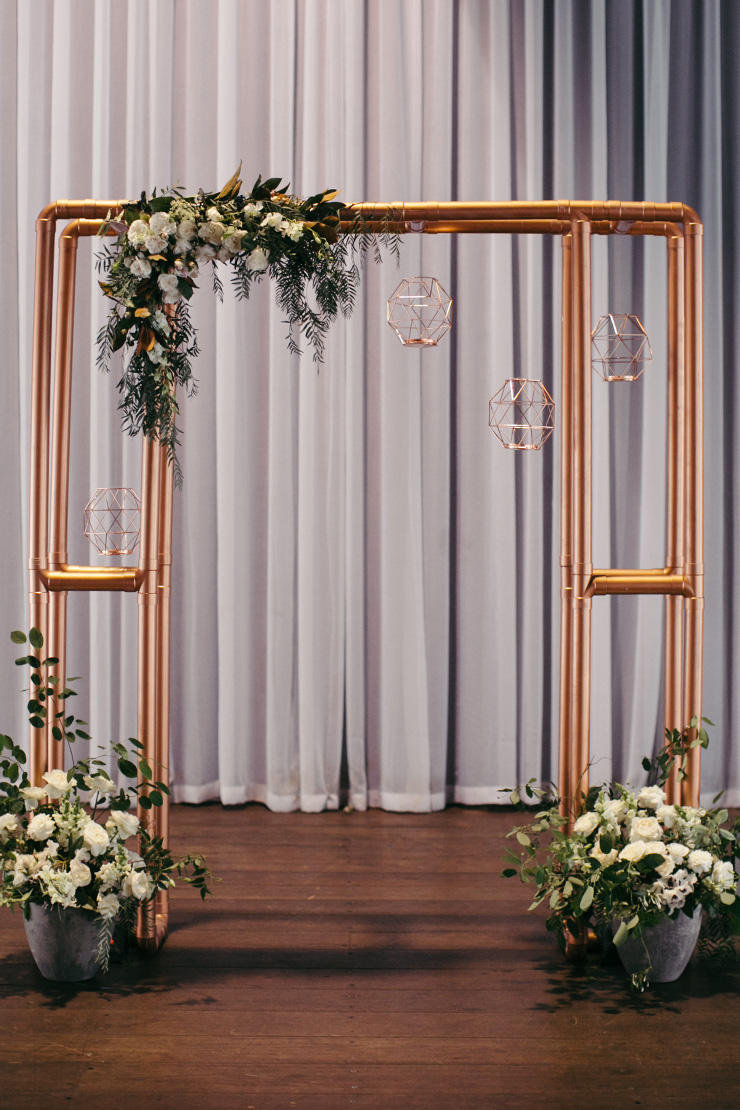 We'll move onto your winter wedding venue décor – this is where you can put your creative cap on and really inject your personality into your venue space. If you're lucky enough to have an abandoned factory, warehouse or loft space for your reception you won't need to do too much in terms of décor. We're huge fans of golden geometric touches and this trend isn't going anywhere for a while. Geometric installations hanging from beams look incredible, just fill with flowers or candles. Incorporate geometric details into your tablescape too: they make for striking table centrepieces or table numbers.  Antique gold candles are a simple yet effective way of decorating your table and they look fab dotted along a distressed wooden table. We love the thought of using a mixture of different gold Tolix chairs – they'll add a dash of quirk to your venue space while keeping on-trend.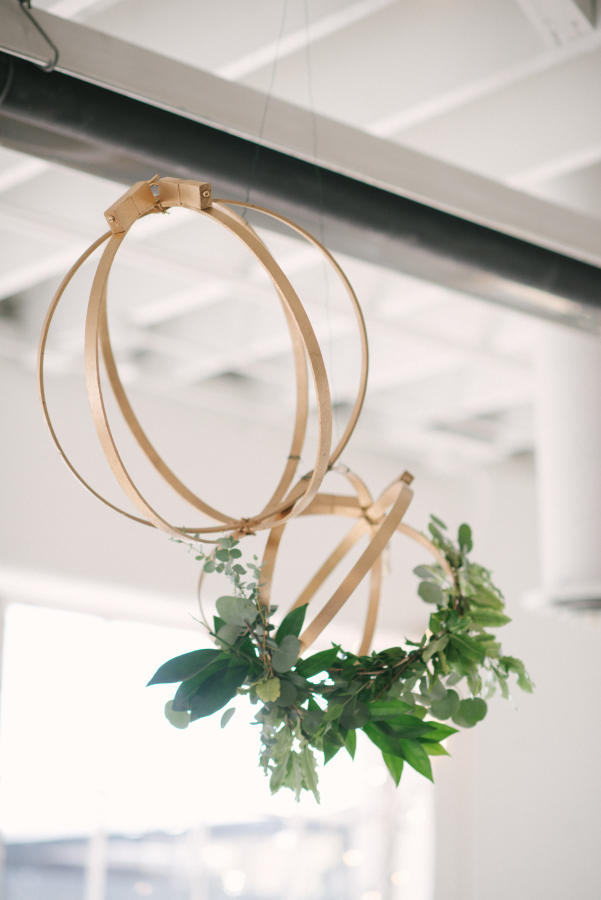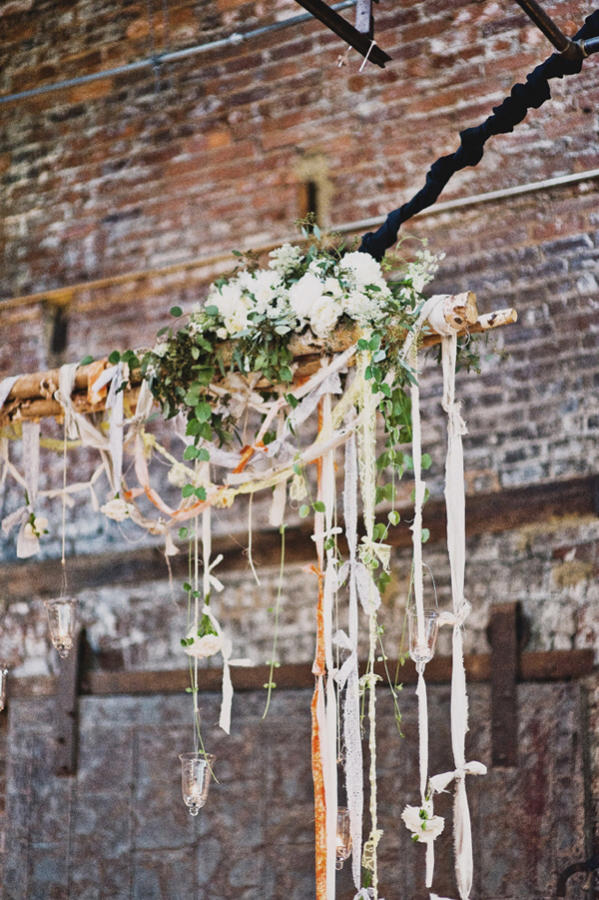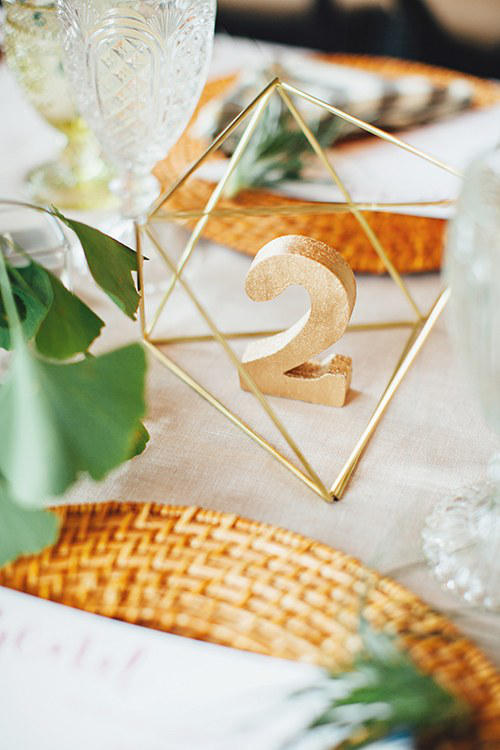 It's time to talk about your Winter wedding food and drink! Gone are the days of cute mason jars (thankfully!): instead we're welcoming chic metallic mugs! Chances are your guests will get a little chilly during a Winter wedding, so warm them up with toasty hot chocolate or mulled wine in gold mugs and goblets.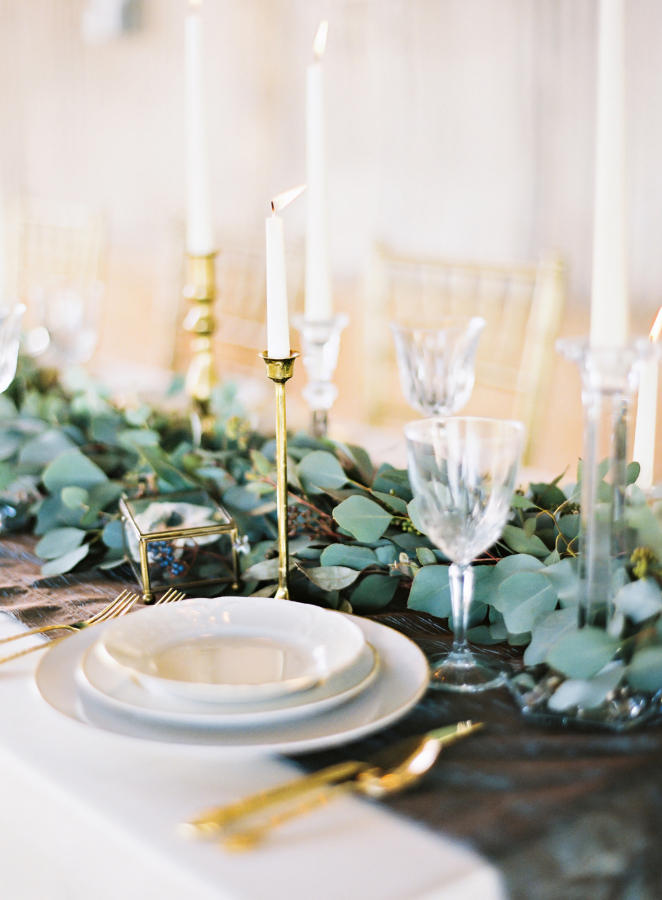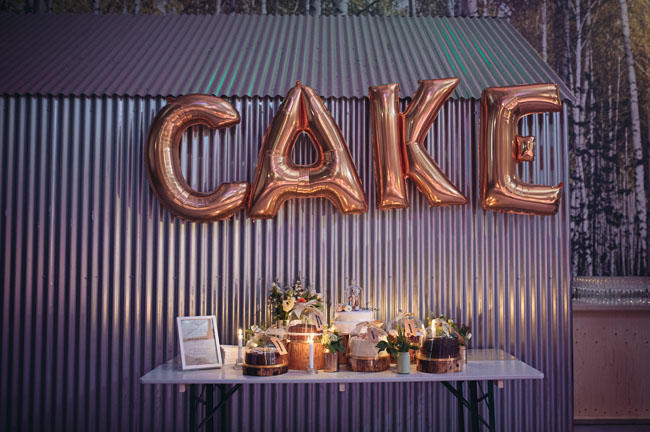 Who could resist a chic gold wedding cake? Take inspiration from your industrial venue and display your cake on a concrete stand or even on the top of a wooden crate – unusual, quirky and completely original!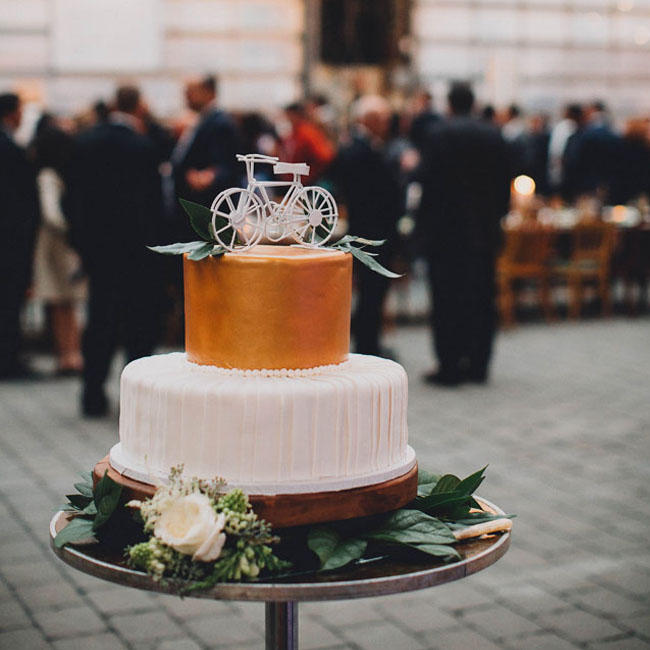 A gold industrial wedding theme is a stylish fusion of glamour and grit, and it's a wonderful choice for couples who want something totally unique for their Winter wedding.
Related Tag: London Wedding Planner
Photography Credits (in order shown)
www.toriandsal.com/www.jannekestorm.com/www.christiansenphotography.com/www.duuet.com.au/www.jordanweiland.com/www.kylehale.net/www.firstmatephoto.com/www.brandismyth.com/www.babbphoto.com/www.wearethebrauns.com